---
Inside a mile-deep open-pit copper mine after a catastrophic landslide
BoingBoing ^ | 4/22/2013 | Tim Heffernan


Posted on 04/22/2013 12:52:47 PM PDT by dirtboy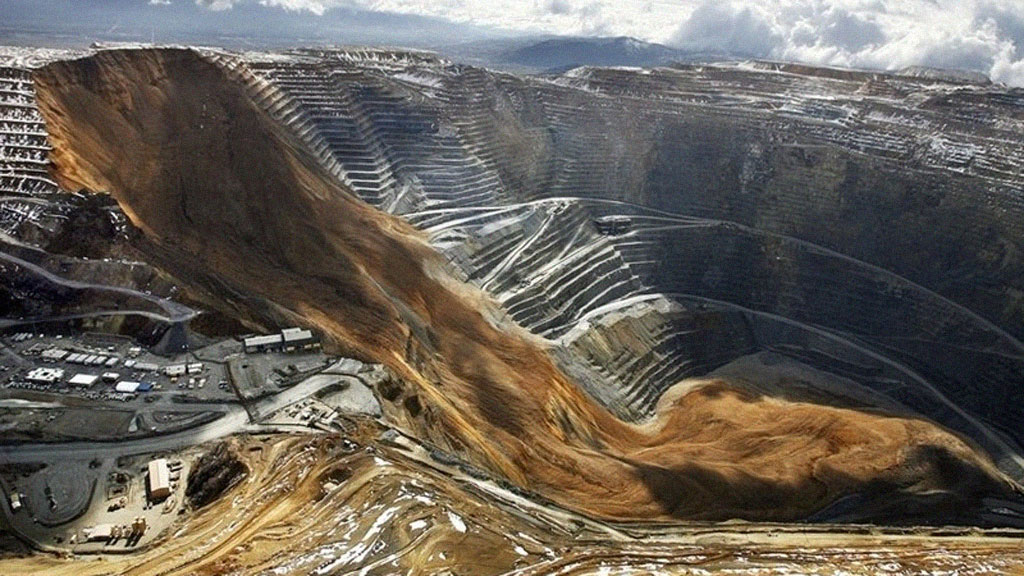 For the past few months I've been reporting a big story on the copper industry for Pacific Standard. It takes a broad look at how the global economic boom of the past decade, led by China and India, is pushing copper mining into new regions and new enormities of investment and excavation. (It'll be out in June.) But a few days ago a very local event shook the copper industry, and I thought it would be neat to look at how a crisis at a single mine can ripple through space and time, ultimately affecting just about everyone around the globe.
Above is a picture, from local news channel KSL, of a massive landslide at Bingham Canyon Mine, about 20 miles southwest of Salt Lake City.
Bingham is an open-pit mine—a gigantic hole in the ground. The landslide, in effect, was the collapse of one of the pit walls. (For scale, the pit is a bit less than three miles wide and a bit more than three-quarters of a mile deep, and as you can see, the collapse stretches halfway across it and all the way from top to bottom.) KSL has more pictures here, and Kennecott Utah Copper, the subsidiary of the mining giant Rio Tinto which runs Bingham Canyon, has a spectacular Flickr set here. Check 'em out.
The landslide went off at about 9:30 in the evening on Wednesday, April 11. It was expected: like most modern mines, Bingham has redundant sensor systems (radar, laser, seismic, GPS) that measure ground movement down to the millimeter and give plenty of warning when a collapse is imminent. The mine was evacuated about 12 hours before the landslide, and nobody was hurt.

(Excerpt) Read more at boingboing.net ...
---
TOPICS: Business/Economy; Extended News; US: Utah
KEYWORDS: copper
---
Navigation: use the links below to view more comments.
first 1-20, 21-40, 41-55 next last
---
---
---
---
---
---
---
---
---
---
---
---
---
---
---
---
---
---
---
---
---
Navigation: use the links below to view more comments.
first 1-20, 21-40, 41-55 next last
---
---