---
Sean Hannity Show,M-F,3PM-6PM,EDT,WABC AM,April 15-19,2013
Sean Hannity Show ^ | April 15-19, 2013 | Sean Hannity


Posted on 04/15/2013 12:24:24 PM PDT by Biggirl

Welcome To The Sean Hannity Show Thread! All Posters And Lurkers Are WELCOME! The Show Thread Between EL Rushbo And TGO'S Lounge. Be The First To Post And Win A Sean Hannity Show Thread High Power Blender. Listen To Sean Do Comentary, Talk To Guests And Take Calls From YOU! :)=^..^=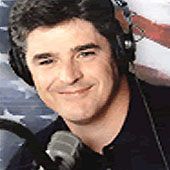 Image by Cool Text: Free Logos and Buttons - Create An Image Just Like This

---
TOPICS: Constitution/Conservatism; News/Current Events; US: New York
KEYWORDS: politics; seanhannity; talkradio



---
To: Biggirl
Sean's ongoing coverage of the Boston bomb situation is quite good.
---
To: SpaceBar
Yes, doing a wonderful job.
3
posted on
04/15/2013 12:55:32 PM PDT
by
Biggirl
("Jesus talked to us as individuals"-Jim Vicevich/Thanks JimV!)
---
To: SpaceBar
Sean doesn't have a Boston affiliate at the moment and if he did they probably would have gone local, however those in area can hear Sean on 610 and 96.7 in NH, 580 in Worcester,
and 920 in Providence; on XM, etc.
---
To: SpaceBar
He sounds like he's OK with the police searching people's houses. What happened to the Fourth Amendment?
---
FreeRepublic.com is powered by software copyright 2000-2008 John Robinson