---
To: DustyMoment
Part 2 of the assignment: "Explain why we should learn to appreciate Hitler's art in spite of his slaughter of 6 million Jews and tens of millions of other innocent civilians in Europe, Africa and Russia."
20
posted on
04/12/2013 11:07:50 AM PDT
by
littleharbour
("All men having power ought to be distrusted to a certain degree. ~ James Madison)
---
To: littleharbour
"Explain why we should learn to appreciate Hitler's art in spite of his slaughter of 6 million Jews and tens of millions of other innocent civilians in Europe, Africa and Russia."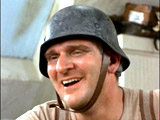 "You were taken in by that verdammte Allied propaganda! Such filthy lies! They told lies! But nobody ever said a bad word about Winston Churchill, did they? No! 'Win with Winnie!' Churchill! With his cigars. With his brandy. And his rotten painting, rotten!"
"Hitler - there was a painter! He count paint an entire apartment in one afternoon! Two Coats! Churchill. He couldn't even say 'Nazi'. He would say 'Noooo-zeeehz, Nooooooooooooo-zeeehz!' It wasn't Noses! It was Nazis! Churchill!...Let me tell you this! And you're hearing this straight from the horse. Hitler was better looking than Churchill. He was a better dresser than Churchill. He had more hair! He told funnier jokes! And he could dance the pants off of Churchill!...Churchill!"

---
FreeRepublic.com is powered by software copyright 2000-2008 John Robinson