---
To: Red Steel
This new vessel will join the USS Obama, furthering the new navy's goal of being a "Global Force for Good." This is not to be confused with the goal of the OLD navy, whose goal was to kill the enemy and break enough of his shit to make him want to quit the fight.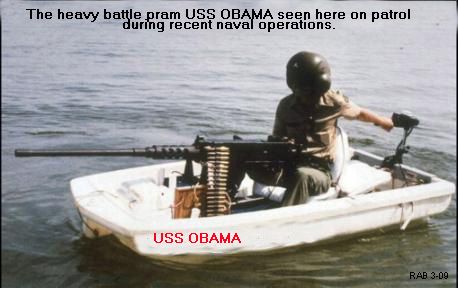 Armed with a single MA-2 .50 caliber Browning, this much feared naval vessel carries up to 30 rounds of aluminum piercing ammunition. It is the first in an entirely new naval architecture class -- technically, "clitoral" (not to be confused with "littoral") -- being pushed on the Pentagon by the defense minded wussies in the Obama Administration as a cost-saving measure. If you look closely, you can see the heavy-duty seat restraint which prevents the pilot/gunner – Kamakazi Kowalski – from leaping from the vessel prior to engaging the enemy. The 12 V trolling motor – which lacks a reverse function -- propels this sophisticated craft forward at a top speed of 4 knots. Reverse travel – at approximately 35 knots -- is achieved by firing the Browning.
The no-bid contract to build 200 of these fearsome warships was to have been awarded to Obama-Soros-Emanuel Shipbuilding and Stormdoor Manufacturing (formerly General Dynamics) and will be administered by trusted Obama associate and former Chief-of-Staff Rahm Emanuel who commented that, at $12 million each, they are a bargain. They will be constructed exclusively at the company's facility in Kenya with major subcomponent production (rivets and miscellaneous fasteners) at the company's Harlem and Skokie plants. Delivery is expected to begin in 2024 (or as soon as the subcontractors' funds are safely in the contractor's Swiss account).

---
To: Dick Bachert
167
posted on
03/26/2013 8:42:21 AM PDT
by
manc
(Marriage =1 man + 1 woman,when they say marriage equality then they should support polygamy)
---
FreeRepublic.com is powered by software copyright 2000-2008 John Robinson