---
(D'OH!) Turkey Fines 'Blasphemous' Simpsons for Poking Fun at God
ANSAmed ^ | Monday, 3 December 2012 | ANSAmed


Posted on 12/03/2012 1:58:27 PM PST by DogByte6RER
Turkey fines 'blasphemous' Simpsons for poking fun at God
• God offers coffee to the devil in one of the cartoon's episodes
(ANSAmed) - ANKARA - Just about everything that could be said and written about the super-popular cartoon 'The Simpsons' had been, except that it was blasphemous. Now even that ''milestone'' has been reached, thanks to the watchdogs of Turkey's television stations under the Islamic-leaning government of Prime Minister Recep Tayyip Erdogan. According to the newspaper Hurriyet, Ankara's Council of Radio and Television (RTUK) has handed down a TRY 52,951 fine (about 23,000 euros) to the private broadcaster CNBC-E for having broadcast an episode of the cartoon in which ''God is mocked''.
In the episode, God goes so far as to offer coffee to the devil. In the eyes of RTUK, this ''can be considered an insult'' of a blasphemous nature, and the cartoon was held to encourage young people ''to drink alcohol during New Year's celebrations in New York City''.
What's more, ''one of the characters insults the religious beliefs of another to induce him to commit murder'', ''the Bible is burnt in public'' and '' God and the devil are represented in human form''. ''In a country in which the head of the government thinks that a TV series must be historical documentation, it is entirely normal that the RTUK fails to understand the jokes in a cartoon,'' said Hurriyet op-ed writer Mehmet Yilmaz.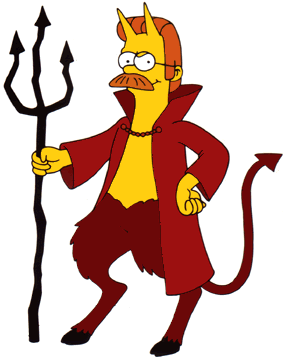 Last week Erdogan lashed out at the popular Turkish television series Suleiman the Magnificent, which boasts 150 million viewers in the Middle East and the Balkans, threatening to order that the judges stand trial over its focus on sex and love in the harem of the important sultan, instead of concentrating on his territorial conquests.
In the eyes of the secular opposition, the prime minister - who has been in the position for 10 years - has a ''hidden agenda'' to re-Islamicise the country, and wants to dilute the legacy left by the founder of modern Turkey and ''father of the country'' Mustafa Kemal Ataturk.
Erdogan has lifted the ban established by Ataturk on the Islamic headscarf in universities, builds mosques everywhere (one slated to be built in Istanbul will be ''enormous'' and will have to be ''able to be seen from every corner of the vast city on the banks of the Bosporus), and is considering bringing back the death penalty, since according to Islamic tradition only families and not the society can pardon a murderer.
Yilmaz wrote today that ''I am curious to see what the screenwriters will do when that find out that in a country called 'Turkey' their irony is punished with a fine.
Perhaps they'll put a RTUK inspector next to the evangelist Flanders? Or perhaps between Homer's house and that of Flanders they'll put the house of a God-fearing Muslim, 'Almond Mustache?''.
In Turkey religious Muslims shaved their mustaches around the lips in the manner of Erdogan, in contrast with traditionally ''Turkish'' mustaches. The population call this type of mustache, which translates as 'Almond Mustache'. (ANSAmed).

---
TOPICS: Culture/Society; Foreign Affairs; Miscellaneous; News/Current Events; War on Terror
KEYWORDS: blasphemy; doh; islam; islamofascism; muhammadsminions; muslims; religion; satire; sharia; television; theology; thesimpsons; turkey
---
---
---
---
---
---
---
---
---
---
---
---
---
---
---