---
Thousands cheer Romney at outdoor rally in Yardley ("Mittstock" in PA!)
Philly.com ^ | 11/4/2012 | Thomas Fitzgerald and Jonathan Tamari


Posted on 11/04/2012 11:02:56 PM PST by GVnana

Thousands cheer Romney at outdoor rally in Yardley
Mitt Romney urged supporters at a massive outdoor rally in Bucks County Sunday night to help him capture the White House, providing dramatic punctuation to the Republican's last-minute push to carry Pennsylvania. A crowd estimated by the Secret Service at 25,000 people filled a field at Shady Brook Farm in Lower Makefield Township on a brisk night with temperatures in the low 40s. Several thousand additional people couldn't get past security barriers to see the event up close.
The flag-waving throng roared when Romney and his wife Ann took the stage to the theme from Rocky a little after 6:30 p.m.
Amid chants of "Send him home!" the GOP nominee listed what he called President Obama's failed promises to turn around the economy and end partisan divisions.
"The same course we have been on will not lead to a better destination," Romney said. "The question of this election comes down to this: Do you want four more years like the last four years, or to you want real change?"
Romney, in a white shirt, red tie, and ski-jacket, was hoarse at times, but spoke urgently.
"This has gathered the strength of a movement, which is obvious by looking around this audience tonight," he told the crowd. "Your voices are being heard all over this country. They're in my heart."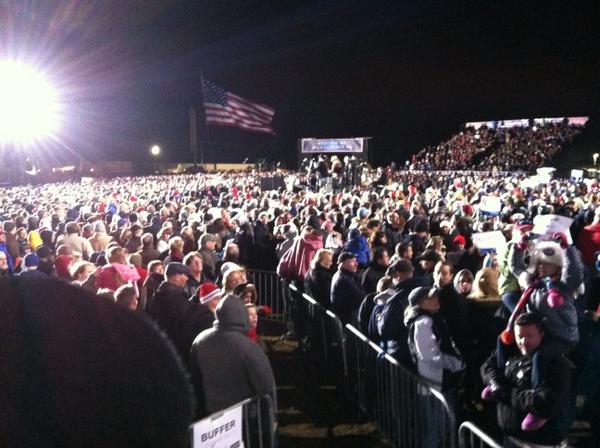 (Excerpt) Read more at philly.com ...
---
TOPICS: Extended News; News/Current Events; Politics/Elections
KEYWORDS:
---
---
---
---
---
---
---
---
---
---
---
---