---
To: nutmeg
19
posted on
11/04/2012 7:59:52 PM PST
by
timestax
(Why not drug tests for the President AND all White Hut staff ? ? ?)
---
To: timestax
20
posted on
11/04/2012 8:09:47 PM PST
by
timestax
(Why not drug tests for the President AND all White Hut staff ? ? ?)
---
To: timestax; muggs; zelig; NautiNurse; StarFan; stanz; Nick Danger; Warrior Nurse; GOPsterinMA; ...
Timestax and Muggs... I'm sorry it took me so long to finally respond on this thread. It was SUCH an honor to "FReep" with you both, and rally alongside so many fine Ohio Patriots! Very nice to meet you in person. :-)
Timestax: Your photos on this thread are awesome! Thank you so much for posting them here.
My husband "zelig" and I were stunned at how big the Benghazi Truth rally at the University of Cincinnati was. The Tea Party is alive and well in Ohio!
It is a shame that the media ignored us, but I kind of expected it, unfortunately. The Obama Regime decreed that there be a total news blackout before the election, and that's exactly what happened (with the exception of Fox News and a few conservative newspapers).
What was most stunning to me were the blank stares at our signs from the Obama-bots. I would bet 99% of them didn't even know what "Benghazi" was!
After our rally broke up, a few of us gathered at a nearby restaurant, then went back out in the dark to meet the Presidential motorcade at the entrance of the arena where Obama was to give his speech. We got within 20 feet of Obama and the liberal lapdog press pool cars! (I was amazed that the police let us stand that close)
Our small group held up our signs... there's no way Obama didn't see us unless he closed his eyes, LOL!
Thank you all, Ohio FReepers and Patriots!

---
To: timestax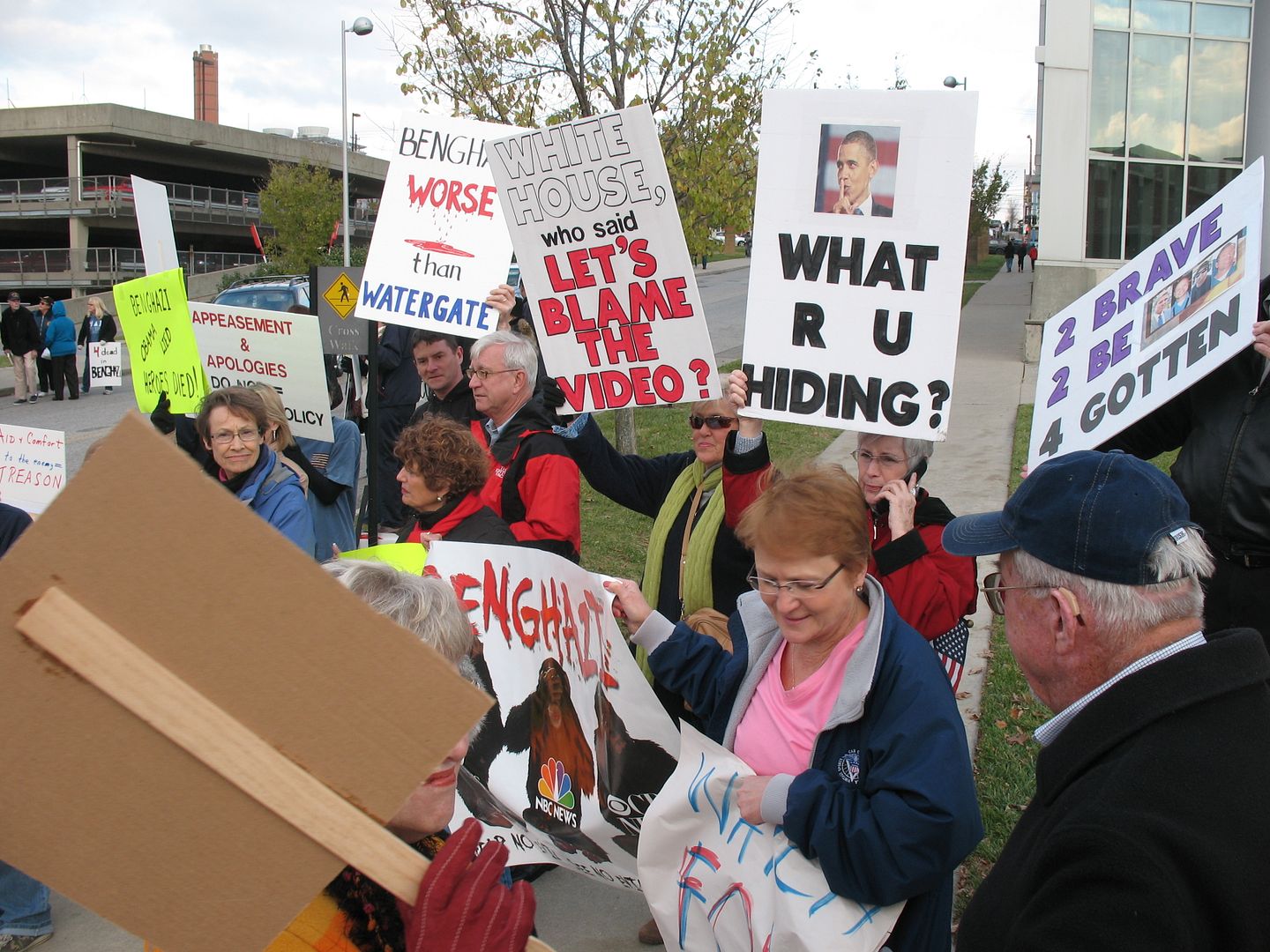 56
posted on
11/14/2012 11:41:24 AM PST
by
timestax
(Why not drug tests for the President AND all White Hut staff ? ? ?)
---
FreeRepublic.com is powered by software copyright 2000-2008 John Robinson