---
NK official is executed for drinking during 100-day mourning period for 'Dear Leader' Kim Jong-il
The Daily Mail (U.K.) ^ | 24 October 2012 | Richard Shears


Posted on 10/24/2012 8:12:27 PM PDT by DogByte6RER

North Korean official is executed by MORTAR SHELL for drinking during 100-day mourning period for late 'Dear Leader' Kim Jong-il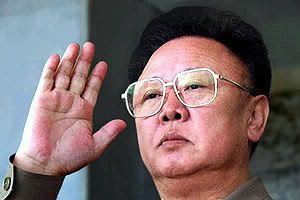 • Senior military official broke the rules of mourning Kim Jong-il
• During the 100-day mourning period North Koreans were forced to abstain from pleasurable activities - including drinking
A North Korean military officer has been executed with a mortar shell blast for disrespecting late 'Dear Leader' Kim Jong-il by drinking alcohol during the 100-day mourning period.
South Korean media claim Kim Chol, the secretive state's former vice minister of the army, was forced to stand on a spot that had been targeted with a mortar on the orders of Kim Jong-un.
The North Korean leader, who took over from his father after his death in December last year, demanded Kim Chol was 'obliterated', with 'no trace of him behind, down to his hair' in January.
It followed the North Korean regime's decision to order its 25 million population to abstain from pleasurable activities – including drinking alcohol - in honour of Kim Jong-il.
As an initial crack down on pleasure, anyone found to be not showing extreme distress in the hours after the dictator's death were dealt with severely by being sent to six months in labour camps, according to reports leaking from the Stalinist nation.
It was claimed that anyone who failed to turn up at organised mourning events within two days of the burial service were sent to a labour camp and punishment was also meted out to anyone who even made a mobile phone call out of the country.

(Excerpt) Read more at dailymail.co.uk ...
---
TOPICS: Crime/Corruption; Culture/Society; Foreign Affairs; Miscellaneous; News/Current Events
KEYWORDS: dearleader; deathbymortar; execution; irishwake; kimjongil; mortar; northkorea; pyongyang; weird
---
Navigation: use the links below to view more comments.
first 1-20, 21-40, 41-55 next last
---
---
---
---
---
---
---
---
---
---
---
---
---
---
---
---
---
---
---
---
---
Navigation: use the links below to view more comments.
first 1-20, 21-40, 41-55 next last
---
---