---
Telling video frame: Crowley shuts down "Fast & Furious" -- on command
dfmpolitics.com (Second Debate: Video and transcript) ^ | 17 OCT 2012 | Crowley & Obama vs Romney


Posted on 10/17/2012 3:23:58 PM PDT by TXnMA
ROMNEY: The — the greatest failure we've had with regards to — to gun violence in some respects is what — what is known as Fast and Furious. Which was a program under this administration, and how it worked exactly I think we don't know precisely, where thousands of automatic, and AK-47 type weapons were — were given to people that ultimately gave them to — to drug lords.

They used those weapons against — against their own citizens and killed Americans with them. And this was a — this was a program of the government. For what purpose it was put in place, I can't imagine. But it's one of the great tragedies related to violence in our society which has occurred during this administration. Which I think the American people would like to understand fully, it's been investigated to a degree, but — but the administration has carried out executive privilege to prevent all of the information from coming out.

I'd like to understand who it was that did this, what the idea was behind it, why it led to the violence, thousands of guns going to Mexican drug lords. OBAMA: Candy?

CROWLEY: Governor, Governor, if I could, the question was about these assault weapons that once were once banned and are no longer banned.
---
Romney stops speaking and turns away in disgust, and Øbozo grins like a possum -- because his obedient, overfed, trained attack spaniel has leaped to his rescue -- at his command.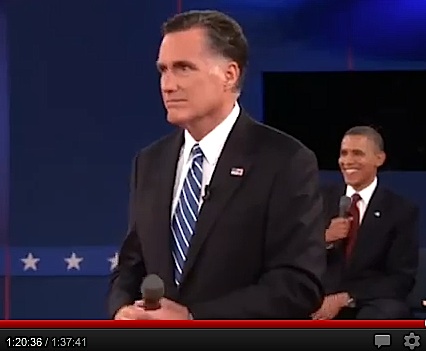 ---
Bias? What bias...?
</sarcasm>

---
TOPICS: FReeper Editorial; News/Current Events; Politics/Elections
KEYWORDS: biasedmoderator; cheating; crowley; debate
---
Navigation: use the links below to view more comments.
first 1-20, 21-40, 41-55 next last
---
---
---
---
---
---
---
---
---
---
---
---
---
---
---
---
---
---
---
---
---
Navigation: use the links below to view more comments.
first 1-20, 21-40, 41-55 next last
---
---