BOTH OBAMA AND OSAMA HAVE
FRIENDS WHO WANTED TO BOMB FORT DIX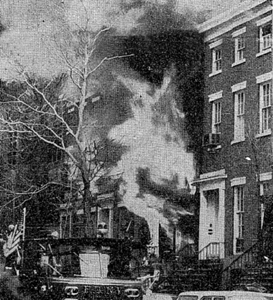 From David Horowitz's FrontPageMag.com/DiscoverTheNetworks.org:
March 6, 1970: "three members of the Weather Underground accidentally killed themselves in a Manhattan townhouse while attempting to build a powerful bomb they had intended to plant at a social dance in Fort Dix, New Jersey -- an event that was to be attended by U.S. Army soldiers. Hundreds of lives could have been lost had the plot been successfully executed."
http://www.discoverthenetworks.org/groupProfile.asp?grpid=6808
"The bomb was intended to be planted at a non-commissioned officer's dance at Fort Dix, New Jersey.
The bomb was packed with nails to inflict maximum casualties upon detonation."
http://en.wikipedia.org/wiki/Weatherman_(organization)#Chronology_of_events
__________________________________________________
2007 Fort Dix attack plot
A group of six radical Islamist[1] men, allegedly plotting to stage an attack on the Fort Dix military base in New Jersey, United States, were arrested by the Federal Bureau of Investigation (FBI) on May 7, 2007. They were subsequently charged with planning an attack against U.S. soldiers. The alleged aim of the six men was said to be to "kill as many soldiers as possible".[2] Their trial began on October 20, 2008. [3]
Opening arguments were presented on October 20, 2008.
Assistant U.S. Attorney William Fitzpatrick said the defendants were inspired by jihad saying "Their motive was to defend Islam. Their inspiration was Al Qaeda and Osama bin Laden.