---
WR Week 326: MOAB and 3DJoy make for one great night
July 21,2011 | [Mrs] & [Mr] T


Posted on 07/21/2011 3:15:30 AM PDT by trooprally

DON'T FORGET NEXT WEEK, JULY 29TH. WE ARE HAVING THE LAST BIG GET TOGETHER TO CHEER OUR WOUNDED WARRIORS THRU THE GATE. This will be the last chance to see everyone together. A special invite goes out to the past regulars who stood at the gate in our early years.



List of 11 Patriots at Walter Reed this 'warm' night: Lurkers Bill, Jim, Terri and Brian, and FReepers 3DJoy, BufordP, Fraxinus, RongKirby, Tammy Cat, [Mrs] T and myself.

Pics by [Mrs] T

[Mrs} T gives this report: Friday night was awesome. We had two things that made it that way. The MOAB was back and 3DJoy was back in town yeah!! You will notice a change up on corners. It made for a interesting night. The night was filled with the usual honks and waves from passing traffic. The temperature was great, not too hot and low dew point. Conversations were on the currant events of the week . Two dinner buses arrived at 9:15 with our Wounded Hero's. Instead of looking southbound on Georgia Avenue we looked northbound as they came around the corner . They were close this week in Chevy Chase. It was a great sight to see. Moonbats Four. Got pictures of their new signs got a good laugh. Still breaking the law putting the signs on the military fence. Of course they left promptly at 9PM .

Author's Note: As [Mrs] T said, the MOAB was up and 3DJoy is in town for the summer. She must have brought the nice southern weather with her. 3DJoy is one of those FReepers that brightens up the corners. Always a pleasure when she comes out. We are expecting several more out-of-towners this Friday, also great FReepers and patriots . Just hope they also bring some nice weather.

Kburi, our regular AAR writer is on vacation so I am filling in, hence the later than normal AAR. It has been a while since I wrote an AAR but would like to give a "shout out" to WVNan. "HI NAN!".

As you can see from the pictures, there was a lot of corner swapping. With the large number of patriots at WR tonight, we were able to move around.

BELOW: MOAB is up!! Myself, Tammy Cat and Rong spent most of the evening on the MOAB corner.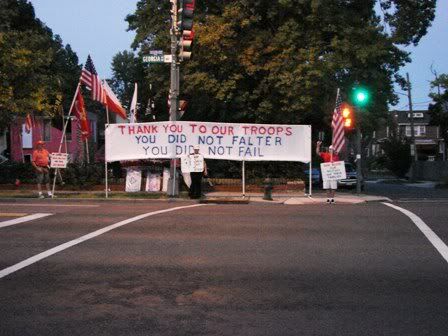 BELOW LEFT: 3Djoy with Fraxinus, yakking it up BELOW RIGHT: 3DJoy with Lurker Bill. No pictures of the gathering around the pizza table.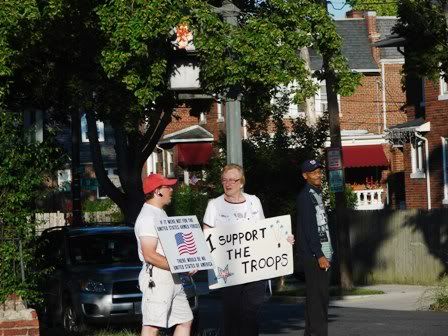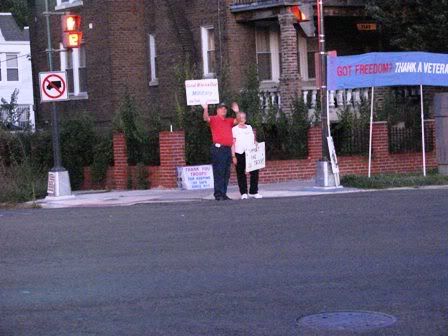 BELOW LEFT: Rong getting close to our passing supporters. BELOW RIGHT: PIZZA TIME. Get it while its hot! Rong heading over to our canteen. As the first picture shows, after some eats, Rong stayed with the MOAB.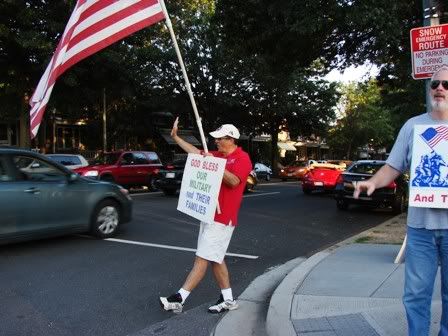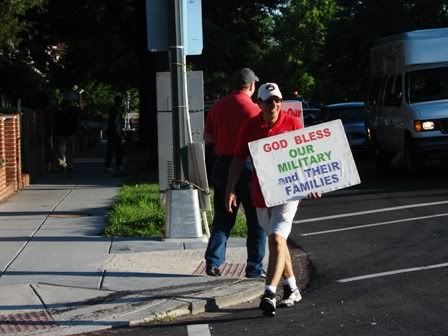 BELOW LEFT: But Rong's regular corner is well covered by Buford, Terri and Brian. BELOW RIGHT: And my regular corner is also well covered by Lurker Jim and Fraxinus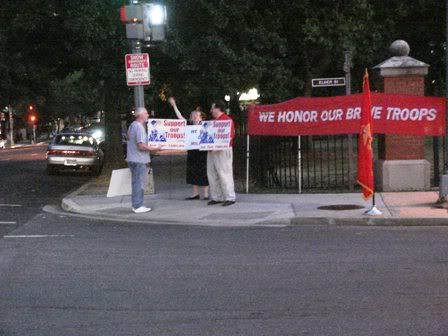 BELOW LEFT: Tammy Cat with Irish cap from her trip. BELOW RIGHT: Sunset before all 4 left moonbats left and the buses showed up. Speaking of moonbats, they had four. Because of our presence and our wounded soldiers "talking" to them about their protest, their signs have become generic and tempered in tone.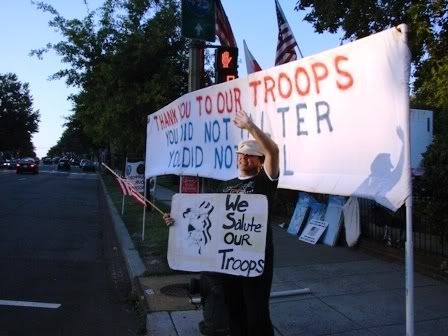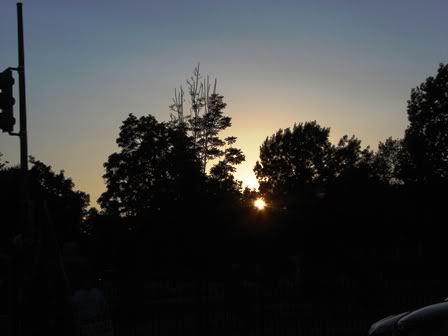 BELOW LEFT: First bus arrives with Fraxinus being first in line to cheer them thru the gate. BELOW RIGHT: Second bus with interior lights on. This serves two purposes. We can see the our wounded soldiers and their families enthusiastically waving back and it gets the bus thru the gates.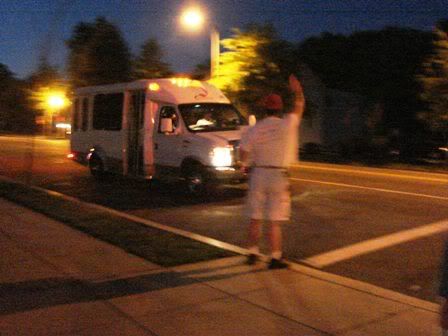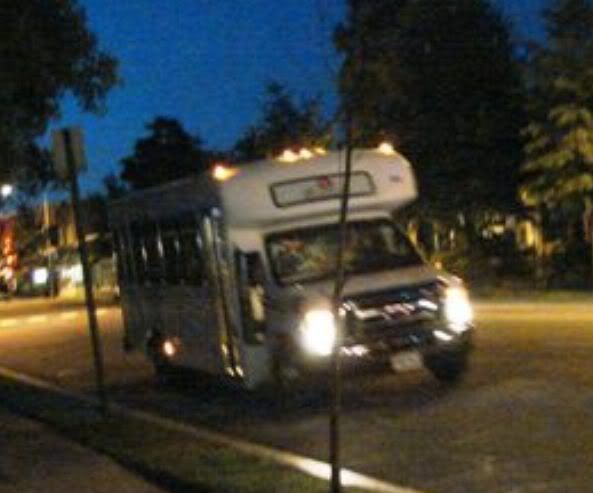 ---
TOPICS: Activism/Chapters; Free Republic; US: Maryland; US: Virginia
KEYWORDS: aar; military; patriotism; walterreed
---
---
---
---
---
---
---
---
---
---
---
---
---
---
---
---
---
---