---
Wounded Warrior and VictoryNY Meet at Walter Reedís Front Gate, Week 325 July 8, 2011
July 10, 2011 | Kburi


Posted on 07/10/2011 5:44:57 AM PDT by kburi

All day long the weather gurus had been predicting severe thunder storms for Friday afternoon and into the evening. At times, rainfall might be 2 inches per hour, they said.
At three pm, it started and would you believe by 6pm, the sun came out and we had a great evening. A lot of traffic again tonight with cars honking and passengers waving. Soldiers and staff were coming and going all night long.
Three small buses carried the wounded warriors and their families back to Walter Reed shortly after 9pm. Thirteen of us greeted those three buses with flags, signs and waves.


Last week Concentric Circle wrote that he was concerned that VictoryNY might be ill, as her feet were on the ground. This week, VictoryNY was in fine form.
Jim, a wounded warrior, suddenly showed up on the front corner in his wheel chair, pointed across the street at VictoryNY and said "I can hear her from There!" pointing back to the top floor of the hospital. VictoryNY brought a couple of pizza slices over to our wounded warrior and spent some quality time with him before he returned inside.
Later, VictoryNY drove another wounded warrior and his friend to a place they needed to be.



At one point, RonGKirby was spotted in the center lane of Georgia Ave. holding his tall US Marine Corps flag and talking to passengers in a stopped (for a red light) car.
He said they wanted to know who we were and who the moonbats were. They were glad to hear our purpose.



3D-Joy made a hat for Trooprally which is displayed in the photos below.
Lurker Bill who has been on the southeast corner almost without fail, also stands with Mr and Mrs Trooprally and American Legion members at Olney, Md every Saturday morning countering a demeaning troop and America protest led by a small group of quakers and leftists.
He changes into a Seal Team 6 shirt (pictured below) for that rally.



Jim, Wounded Warrior, Came Out To See VictoryNY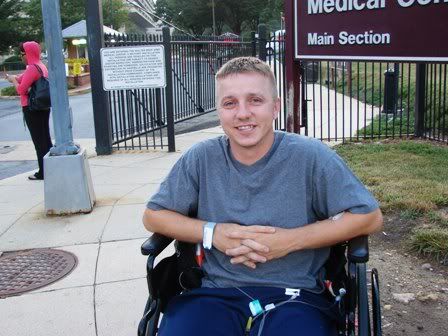 VictoryNY Turns It Up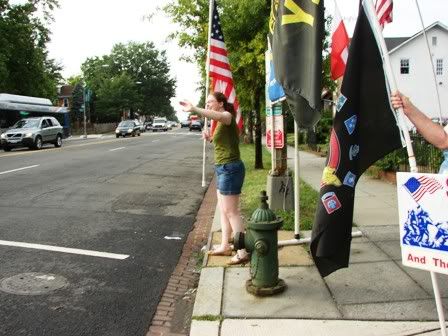 Tonight was the 325th consecutive Friday night that the DC Chapter of Free Republic has been at the front gates of Walter Reed to support our soldiers. Our calculator says that is 6 years, 3 months and 1 week of consecutive Friday evenings. A lot of people over the six years have made this commitment possible.
It doesn't seem possible, but after tonight only seven Friday evenings remain.


July / August Calendar For the Walter Reed Transition

July 15, July 22, and July 29 Dinner Buses will operate.

The DC Chapter of Free Republic invites all who have participated over the past 6 ½ years to join us on any the above dates that you can. July 29th should be especially meaningful.

July 27 Closing Ceremony - Lowering of the Colors at Walter Reed

August 5, 12, 19, and 26 We will continue at the front gates until the last wounded warriors are moved to Bethesda.

It is possible that dinner buses may operate after July 29, until early August, but for those who want to be certain to be there when the dinner bus returns with the soldiers, please plan to join us on one of the July Friday nights..
After that, the Aleethia Foundation will coordinate these dinners from (get used to the new name) the Walter Reed National Military Medical Center, or WRNMMC for short.

The DC Chapter will continue at the front gates of Walter Reed until August 26. Walter Reed officially closes during the last week of August .

---
---
HONOR ROLL for July 8, 2011
Mr. and Mrs Trooprally, CindyTrueSupporter, GunsAreOK, Kburi, Lurker Bill, Lurker Jim, Bryan and Terry, VictoryNY. Fraxinus, RonGKirby and Allie


---
Moonbat News

Four moonbats again tonight. They left promptly at 9 pm.


---
---
FOOTNOTES
The DC Chapter invites you to join us every Friday night between the hours of 6:30pm to approximately 9:30pm. The last Walter Reed dinner bus is scheduled for July 29th. And we plan to soldier on until the last soldier has been transferred (August 26 will be our last Friday night). So the clock is ticking and we would be honored to have you join us before these long term consecutive Friday evening rallies come to a close.
---

If you can't get to D.C. to join us but would like to do something for the wounded, you can find a wealth of ideas by FReepmailing Tom the Redhunter, Cindy-True-Supporter, VAFlagwaver, or PleaDeal. Directions to our Walter Reed freep location from the Takoma metro station

BufordP's Walter Reed FReep archive



---
July 8, 2011 Photos, (courtesy of Mrs. Trooprally)


Lurker Jim and Fraxinus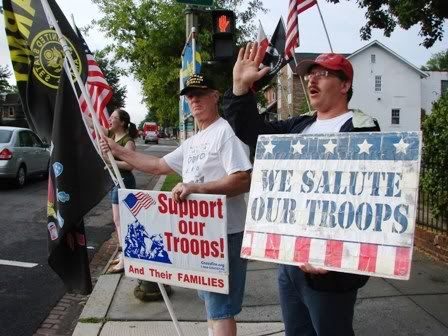 Trooprally with raingear at the ready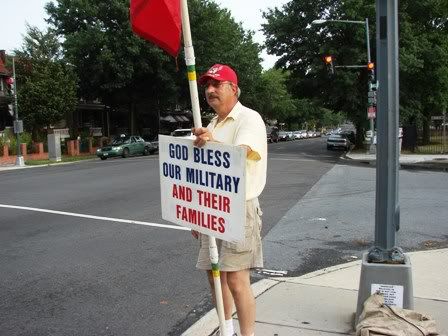 Terry and Bryan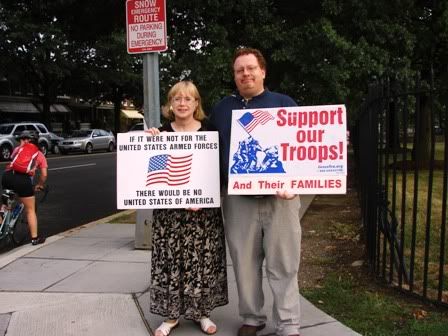 RonGKirby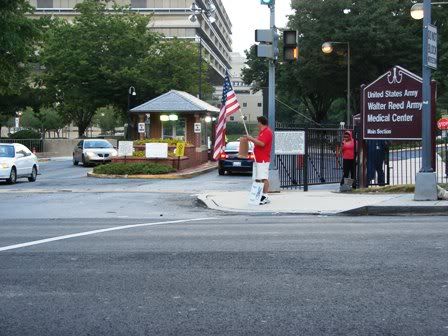 Kburi and Allie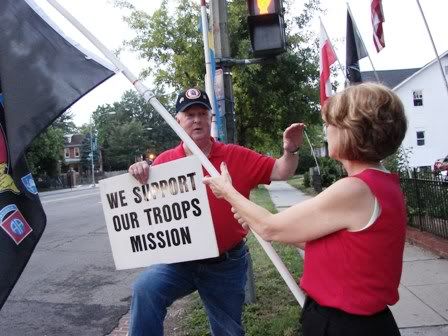 3D-Joy's Hat for Trooprally and Lurker Bill's Seal Team 6 T Shirt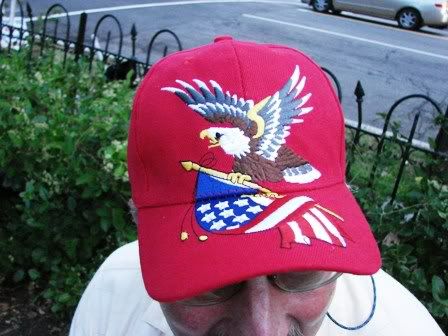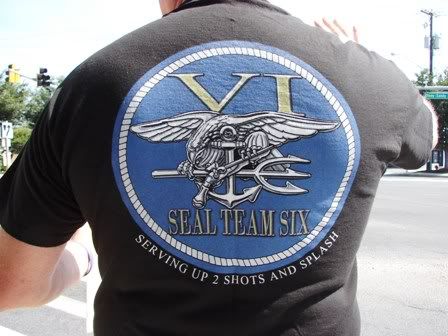 Three Buses Tonight – All filled With Wounded Warriors


Disabled American Veterans Bus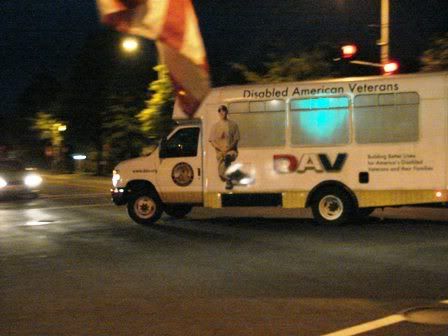 Buses 2 and 3 Pulling Up To The Gate

---
TOPICS: Activism/Chapters; Free Republic; US: Maryland; US: Virginia
KEYWORDS: aar; military; rally; walterreed; walterreedaar
---
---
---
---
---
---
---
---
---
---
---
---
---
---
---
---