---
Big Rally Tonight At Walter Reedís Front Gate! Week 323, June 24, 2011
June 24, 2011 | Kburi


Posted on 06/25/2011 7:40:44 PM PDT by kburi

Twenty FReepers and visitors handled the four corners tonight. Finally, it was a perfect weather-wise evening. The energy on the four corners and from the passing cars made the 323rd consecutive Friday night to support the wounded warriors, a night to remember. VictoryNY and TammyCat really turn up the tempo.

It's hard to believe that there are only four more Friday evenings that dinner buses from Walter Reed will take the troops to Friday night dinners. July 22 is the last Friday night scheduled.
After that, the Aleethia Foundation will coordinate these dinners from Bethesda Medical Center.

The DC Chapter will continue at the front gates of Walter Reed until August 26. Walter Reed officially closes during the last week of August .





Five members of the American Legion Post 68, Olney, Md, joined us tonight. Mrs Trooprally, a member of Post 68, is a Friday night regular at Walter Reed.

Mr and Mrs Trooprally are responsible for the Saturday morning Support the Troops rallies in Olney, which counter the anti-war/troop clowns at the major intersection in Olney.
Olney is seven miles north of Walter Reed on Georgia Ave.





NOTES


Ambulances are still bringing wounded warriors to Walter Reed. Two arrived early tonight as we were setting up. God bless our soldiers.

BufordP got a surprise when a WW2 Navy veteran pulled over and asked what was our purpose for being in front of Walter Reed . He was pleased to hear about our support for the troops.

Trooprally reported a lady driver, at the stoplight shouted "I'm going to miss you all on my Friday night drive home."

Two delicious pizzas and chocolate chip cookies highlighted breaks this mild evening.




One bus tonight which returned to Walter Reed after we had left.





.
---
American Legion Post 68, Olney, Maryland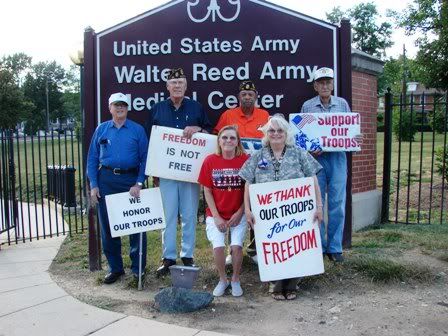 Glen – US Army; Halsey – SGM US Marines; Mrs Trooprally – US Army; Kenneth – USAF and US Army; CindyTrueSupporter; Glen – US Marines (Iwo Jima veteran)
---
HONOR ROLL for June 24, 2011
Mr. and Mrs Trooprally, CindyTrueSupporter, BufordP, GunsAreOK, Kburi, Lurker Bill, TammyCat, Fraxinus, Lurker Jim, Bryan and Terry, TammyCat, VictoryNY. PresUSA222, Allie, Glen, Carl, Kenneth and Halsey


---
Moonbat News

Three moonbats tonight.
Then two more just before 9pm.
Much earlier, a patrol car was parked right by the moonbats. After a while, an officer got out and appeared to confiscate at least one of their signs.
They have been repeatedly warned exactly where their signs are allowed. Tonight they may have encroached too much.


---
---
FOOTNOTES
The DC Chapter invites you to join us every Friday night between the hours of 6:30pm to approximately 9:30pm. The last Walter Reed dinner bus is scheduled for July 22nd (tentatively). And we plan to soldier on until the gates are formally closed in August (August 26th?). So the clock is ticking and we would be honored to have you join us before these long term consecutive Friday evening rallies come to a close.
---

If you can't get to D.C. to join us but would like to do something for the wounded, you can find a wealth of ideas by FReepmailing Tom the Redhunter, Cindy-True-Supporter, VAFlagwaver, or PleaDeal. Directions to our Walter Reed freep location from the Takoma metro station

BufordP's Walter Reed FReep archive



---
June 24, 2011, Photos, (courtesy of Mrs. Trooprally)


Trooprally and PresUSA222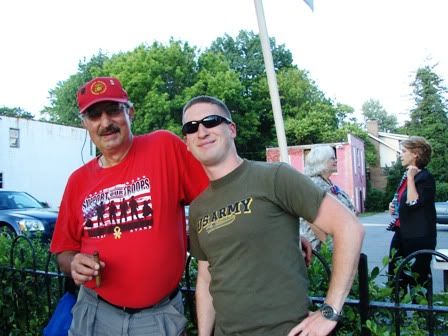 VictoryNY and Tammycat – "Can You Hear Us?"
Kburi and Allie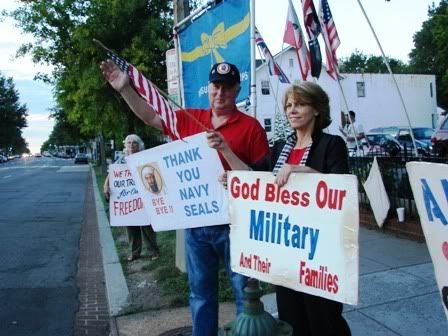 Fraxinus, Terry and Bryan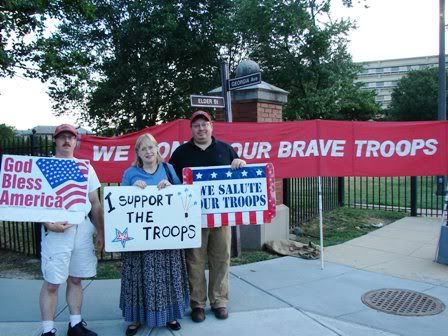 Soldier Taking Our Picture!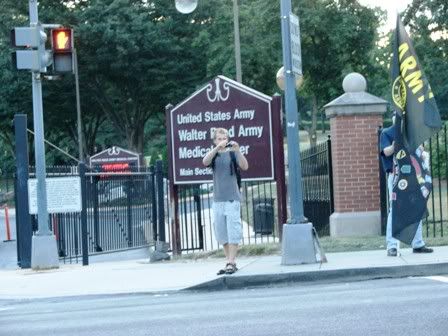 Halsey and Jim
GunsAreOK and BufordP
Lurker Bill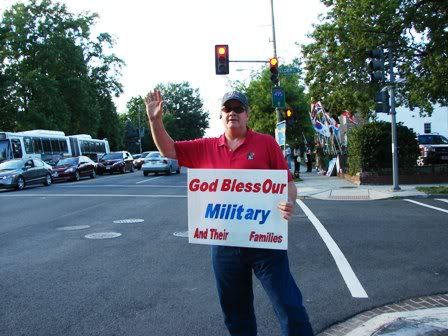 Ambulance Arriving With A Wounded Warrior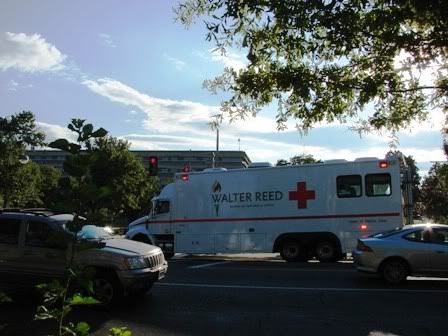 Sunset over Walter Reed (only 9 more evenings are left)


---
TOPICS: Activism/Chapters; Free Republic; US: Maryland; US: Virginia
KEYWORDS: aar; moonbats; rally; walterreed
---
---
---
---
---
---
---
---
---
---