---
MOAB Returns, Miltary Appreciation Month continues at Walter Reed, Week 318, May 20, 2011
May 24, 2011 | Kburi


Posted on 05/24/2011 5:16:50 PM PDT by kburi
After almost three months, the MOAB (Mother Of All Banners) returned to the front gates of Walter Reed!
Rain and high winds had kept the MOAB down.
But not today. Sunny and mid 70's, perfect weather to be in front of Walter Reed showing support to our wounded warriors and their families. Military Appreciation Month continues through Memorial Day.

Today was a busy day as M/M Trooprally,CindyTrueSupporter, RonGKirby and Kburi were at the Silver Spring Armed Forces Recruiting Station to thank military recruiters for their service

Recruiters from the US Army and the US Marines received a Certificate of Appreciation, a pizza, soda and cookies, plus a gift card. A separate after action report is coming.



We had a good group tonight and were joined by Alli who is part of the post-closing team. She is on assignment from Georgia and will join us as time permits.


Two small buses tonight, but they were both filled. For one soldier it was his second time off the Walter Reed post in a year, and we waited for the bus with flags and signs so he would see that Americans care about our wounded warriors.


Next Friday night is the beginning of Memorial Day weekend and many soldiers will be on leave. The DC Chapter of Free Republic will be there for the 319th consecutive Friday night at Walter Reed's front gate.


.
---
MOAB Is Back!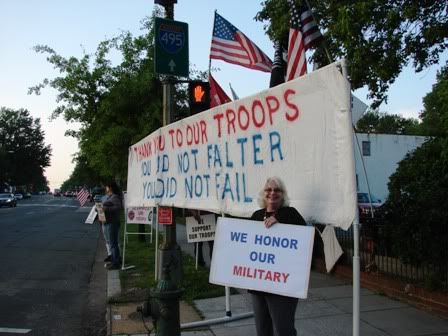 ---
HONOR ROLL for May 20, 2011
Mr. and Mrs Trooprally, BufordP, TammyCat and Idaho, Lurker Bill, Fraxinus, RonGKirby, Lurker Jim, CindyTrueSupporter, Kburi, GunsAreOK and Lurker Alli.
---
Moonbat News

Two moonbats, joined at 8:20pm, by two more. Gone at 9pm.


---
FOOTNOTES
The DC Chapter invites you to join us every Friday night between the hours of 6:30pm to approximately 9:30pm.
---

If you can't get to D.C. to join us but would like to do something for the wounded, you can find a wealth of ideas by FReepmailing Tom the Redhunter, Cindy-True-Supporter, VAFlagwaver, or PleaDeal. Directions to our Walter Reed freep location from the Takoma metro station

BufordP's Walter Reed FReep archive



---
May 20, 2011, Photos, (courtesy of Mrs. Trooprally)


BufordP, GunsAreOK, and RonGKirby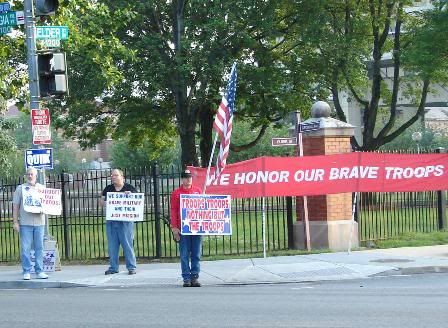 TammyCat and Alli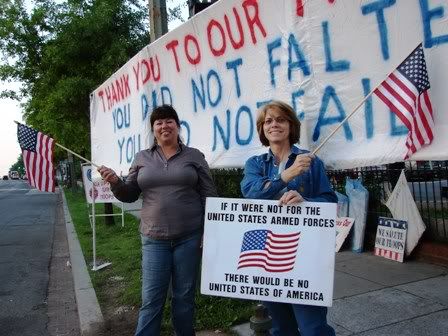 Lurker Bill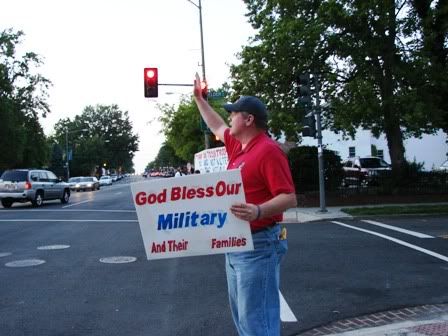 Lurker Jim and Fraxinus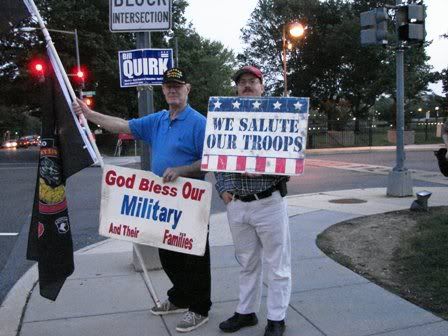 TammyCat and CindyTrueSupporter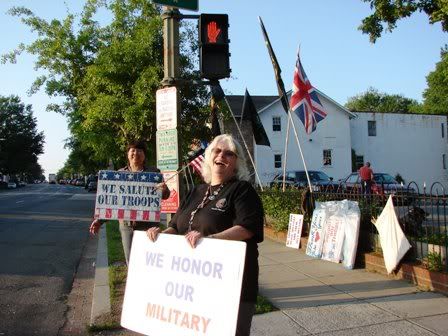 Bus Approaches, Stops and Opens Door to Greet Us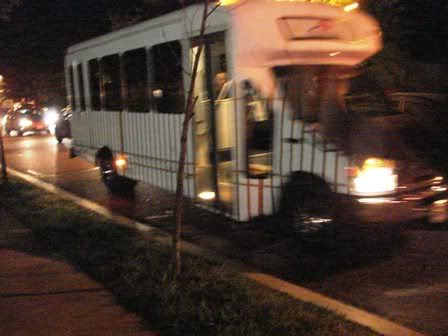 ---
TOPICS: Activism/Chapters; Free Republic; US: Maryland; US: Virginia
KEYWORDS: aar; military; patriotism; walterreed
---
---
---
---
---
---
---