---
Good Friday at Walter Reed - Week 314, April 22, 2011
April 23, 2011 | Kburi


Posted on 04/23/2011 11:51:42 AM PDT by kburi

Last night was soggy with temperature in the high 40's. The rain meant that the MOAB, Mother Of All Banners, and Flag Row were safe and dry in their holders until next Friday. However, Flag Row was covered by smaller flags all night.

Easter weekend means that there was no dinner bus. It also means that many people in the DC area are out of town on Easter break. Traffic was considerably lighter and only a few cars were entering and leaving Walter Reed Army Medical Center.

Because of the rain,our umbrellas were up. Jessica started with a pink one, but quickly realized "wrong color" for our group. She retrieved a solid army green from her car.

3D-Joy was back for several days and joined us. Mr Trooprally presented her with a DC Chapter Plaque recognizing her presence from the beginning and for the patriotic items she made for our fundraisers.

A soggy night with a lot of smiles.



"Little" Flag Row on Good Friday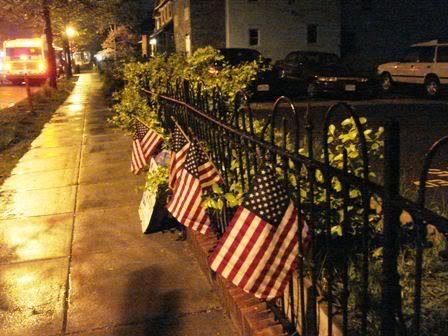 ---
HONOR ROLL for April 22, 2011
Mr. and Mrs Trooprally, BufordP, 3D-Joy, TammyCat and Idaho, Fraxinus, RonGKirby, CindyTrueSupporter, Kburi, Lurkers Jessica, Jim, Terry and Bryan.
---
Moonbat News

Two moonbats added one more before the end. They left right before 9pm.


---
FOOTNOTES
The DC Chapter invites you to join us every Friday night between the hours of 6:30pm to approximately 9:30pm.
---

If you can't get to D.C. to join us but would like to do something for the wounded, you can find a wealth of ideas by FReepmailing Tom the Redhunter, Cindy-True-Supporter, VAFlagwaver, or PleaDeal. Directions to our Walter Reed freep location from the Takoma metro station

BufordP's Walter Reed FReep archive



---
April 22, 2011, Photos, (courtesy of Mrs. Trooprally)


CindyTrueSupporter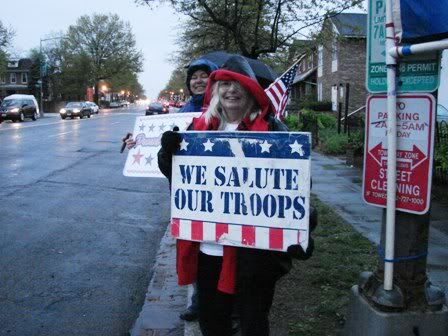 Mr Trooprally presenting 3D-Joy with DC Chapter Recognition Plaque


TammyCat and Jessica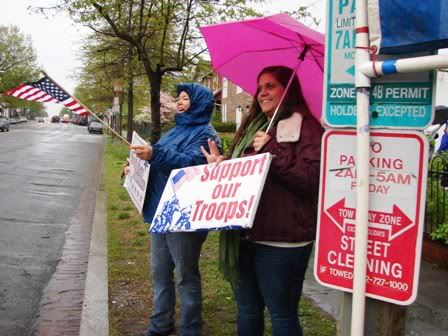 Fraxinus and 3D-Joy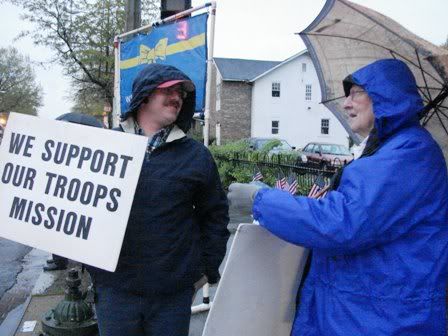 Lurkers Bryan and Terry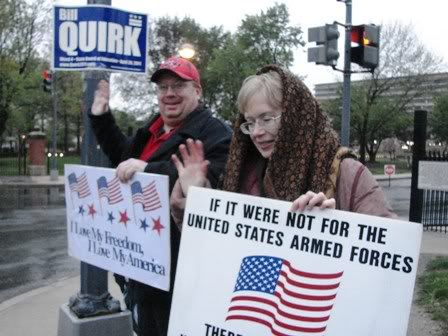 RonGKirby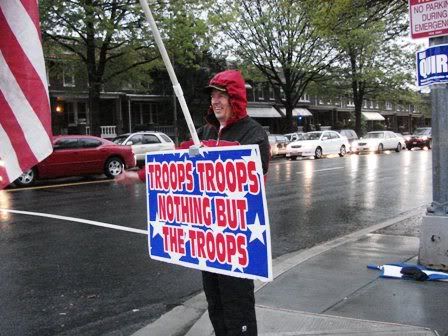 3D-Joy and BufordP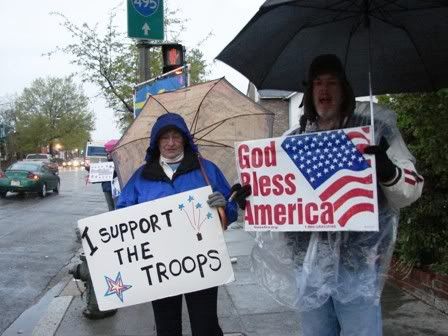 ---
TOPICS: Activism/Chapters; Free Republic; US: Maryland; US: Virginia
KEYWORDS: aar; military; rally; walterreed
---
---
---
---
---
---
---
---
---
---
---
---
---
---
---
---