---
6th Anniversary Report at Walter Reed! - Week 312, April 8, 2011
April 10, 2011 | Kburi


Posted on 04/10/2011 6:15:06 AM PDT by kburi

Tonight, the 6 year anniversary of supporting the wounded warriors at Walter Reed, was a special night. It was the 312th consecutive Friday night that Free Republic members, Protest Warriors, lurkers and visitors have stood at the front gates to counter the anti-war group down the street.
Even though it was a chilly and rainy evening, spirits were high with some familiar faces and some new Freepers joining us.

Mr and Mrs Trooprally coordinated two tents as shelter with plenty of BBQ, pizza, hot drinks and cookies to feed the crowd of 30 plus.

With the corners fully manned by enthusiastic Freepers and visitors, honks and waves from passing cars were continuous. One wounded warrior, Mark, who was wounded in Afghanistan joined us for awhile. He was joined by two friends, Scott and Greg, who had travelled from Minnesota to visit with him.

Four Freepers who had been part of the original group, 6 years ago, and who are still at the front gates received a certificate of recognition from the DC Chapter of Free Republic. They are BufordP, Cindy TrueSupporter, Fraxinus and GunsAreOK.

We had some bad news earlier in the afternoon. Lurker Bill became ill and wasn't able to join us. We send him prayers and best wishes for a quick recovery. He has been a mainstay with his presence, his banners, music and signs over the years.
The bus came right on time from a downtown restaurant. It was completely full and the troops and their families inside were all waving at us.



Trooprally sent the following comments to be included in tonight's after action report.
"After a winter without snow or cold rain on our Friday night Support the Troop Rallies, we got it this Friday. BufordP, Cindy_True_Supporter, [Mrs] T and myself arrived around 6 to set up. We just got one tent set up in a cold, damp environment when the rains came.
After 20 minutes of waiting, the 2nd tent was set up and things really started to get organized. Tammy Cat showed up with a third table for the BBQ and other eats. Lurker Jim showed up with some chairs and a bag of flags. Kburi showed up with another cooler of drinks. Coffee was already set up.

All the while patriots were coming in. Before one knew it, we were out on the corners getting honks and waves. Even before we were on the corners, passers-by saw us and the tents and were honking. Even the big Walter Reed ambulance bus gave us a blast as it left Walter Reed.

We also gave some special FReepers Certificates of Appreciation to several FReepers who have survived the test of time.
Recipients were: BufordP since Week 2; Cindy_True_Supporter since May 27,'05, aka Joan of Olney and Lurker Joan; Fraxinus sine July 29,'05; and GunsAreOk for his long time support. Kburi, aka Lurker George, received a Certificate of Appreciation for his prompt AARs and his time of service since Sept. 02,'05. Kburi's lovely wife,Lurker Ethel, was not present this week but she was there with Kburi their first week.

Two other original Walter Reed FReepers to show up were Jimmy Valentines Brother since Week 2, and Rackatoot from the Aug. 05,'05 FReep. Thank you for coming to the 6 Year Anniversary and for holding down the fort in our early days. I apologize for not being able to recognize them with a Certificate of Appreciation but I didn't realize you would be here.

Kristinn called from his underground bunker in warmer and dryer parts of the Country.
He wished us the best and expressed his disappointment in not being with us. He said that if he could, he would gladly give up the warm and sunny weather to be here but it was not in the cards. He was also glad that we had a good turnout.
Mark, with friends Greg and Scott. Surrounded by Rackatoot, TammyCat, PatriotSister1, Provi and Kburi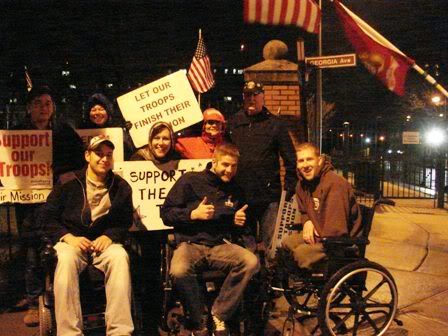 ---
---
HONOR ROLL for April 8, 2011
Mr. and Mrs Trooprally, CindyTrueSupporter, Fraxinus, BufordP, JimmyValentine'sBrother, Tammycat, Kburi, GunsAreOK, TomTheRedhunter, USNRetired(Chief), Rackatoot, Provi, PatriotSister1 and Lurker Jim.

Visitors were Bryan and Terry, Dan, Jaime and Kathy and about 12 George Washington University Young Republicans.
---
George Washington University Young Republicans Bring Enthusiasm
---
---
Moonbat News

The moonbats had a small gathering of 3. They left right before 9 pm.


---
FOOTNOTES
The DC Chapter invites you to join us every Friday night between the hours of 6:30pm to approximately 9:30pm.
---

If you can't get to D.C. to join us but would like to do something for the wounded, you can find a wealth of ideas by FReepmailing Tom the Redhunter, Cindy-True-Supporter, VAFlagwaver, or PleaDeal. Directions to our Walter Reed freep location from the Takoma metro station

BufordP's Walter Reed FReep archive



---
April 8, 2011, Photos, (courtesy of Mrs. Trooprally)


JimmyValentine'sBrother and TomTheRedhunter



Trooprally



Visitors Bryan and Terry

Trooprally, PatriotSister1 and USNRetired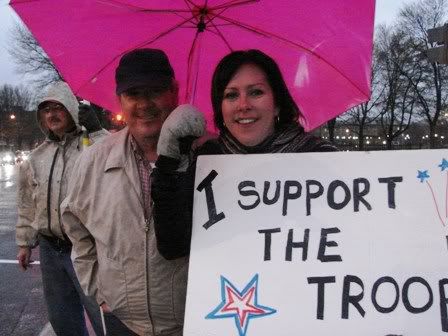 GW Young Republicans Hit the Curb

CindyTrueSupporter, GW Young Republican (she interns in a Congressman's office) and Trooprally



Jim and TammyCat taking a break under the tent
Don and Fraxinus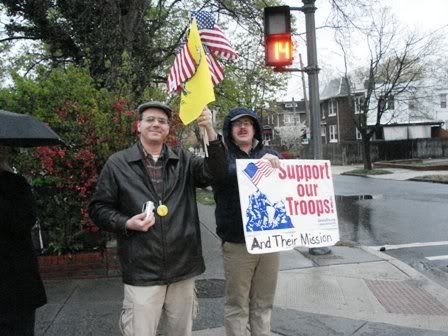 TammyCat, PatriotSister1, and Visitors
Received Certificates of Recognition for being at Walter Reed since the beginning, 6 years ago
BufordP and CindyTrue Supporter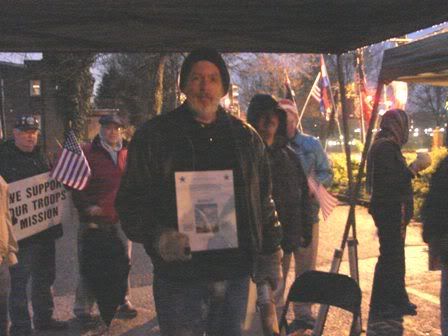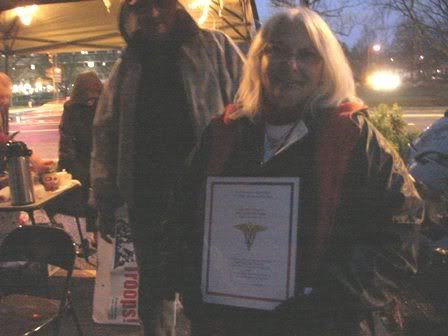 Fraxinus and GunsAreOK
The Bus Returning From Dinner
---
TOPICS: Activism/Chapters; Free Republic; US: Maryland; US: Virginia
KEYWORDS: aar; rally; walterreed
---
Navigation: use the links below to view more comments.
first 1-20, 21 next last
---
---
---
---
---
---
---
---
---
---
---
---
---
---
---
---
---
---
---
---
---
Navigation: use the links below to view more comments.
first 1-20, 21 next last
---
---