---
The Friday Before April 8, the 6th Anniversary at Walter Reed! - Week 311, April 1, 2011
April 4, 2011 | Kburi


Posted on 04/04/2011 7:45:52 AM PDT by kburi

Another damp evening made cold by the wind. Traffic was constant as were the honks and waves

Speaking of waves one car slowed down and an older woman wagged her finger at Trooprally. Her car continued slowly south across the entrance to WR and stopped in front of RonGKirby. For a full ten seconds she gave the finger to RonG before remembering where she was and drove on. A throwback from the 60's? Let's see if she repeats that behavior next week.

Ten Freepers were joined by two visitors from the Aleethia Foundation: Hal Koster, Founder and President, and Margaret Thomas, Advisory Board.
Because of a scheduling conflict, the Friday night wounded warrior dinner bus will make its run this Sunday night. So Margaret and Hal brought us a few subs and canolis to munch on. Their food was much appreciated.

On April 8, our 6th anniversary at the front gates of Walter Reed we are looking forward to seeing some of the Freepers and visitors who have participated in this 312 consecutive Friday night commitment to support the troops and their families.



The Aleethia Foundation is run by volunteers who aid wounded warriors in the initial phase of recovery. They do this by providing dinners, short- term recreation outings and small grants.


For a complete description of the Aleethia Foundation and its activities, visit Aleethia Foundation…

Hal and Margaret of Aleethia Foundation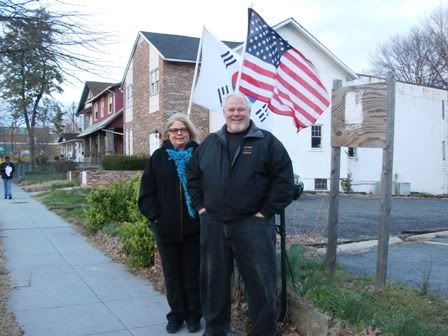 Announcement of 6th Year Anniversary at Walter Reed (April 8, 2011):


On April 8, 2011, The DC Chapter of Free Republic will complete 6 years, or 312 consecutive Friday nights, at the Front Gates of Walter Reed. We invite all those Freepers and Protest Warriors who were here at the beginning, and those who have joined us periodically to join us on that night.
Without them, and there were many, we wouldn't have been able to make this strong statement of support for the wounded warriors and their families. We also invite all the visitors who have stopped by to also join us.
---
---
HONOR ROLL for April 1, 2011
Mr. and Mrs Trooprally, CindyTrueSupporter, Lurker Bill, RonGKirby, Fraxinus, Tammycat, Lurker Jim, Lurker Jessica and Kburi. Visitors were Margaret and Hal of Aleethia Foundation.
---
Moonbat News

The moonbats started with about 7, and shrunk to four by 9 pm.

---
FOOTNOTES
The DC Chapter invites you to join us every Friday night between the hours of 6:30pm to approximately 9:30pm.
---

If you can't get to D.C. to join us but would like to do something for the wounded, you can find a wealth of ideas by FReepmailing Tom the Redhunter, Cindy-True-Supporter, VAFlagwaver, or PleaDeal. Directions to our Walter Reed freep location from the Takoma metro station

BufordP's Walter Reed FReep archive



---
April 1, 2011, Photos, (courtesy of Mrs. Trooprally)


CindyTrueSupporter and Margaret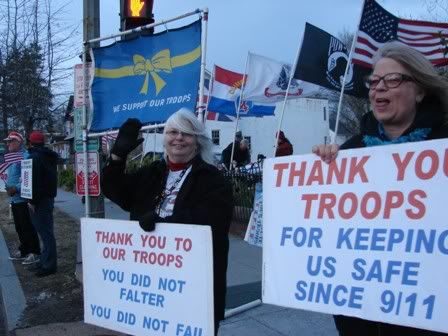 <

Jim and Fraxinus



the real Lurker Bill

RonGKirby and TammyCat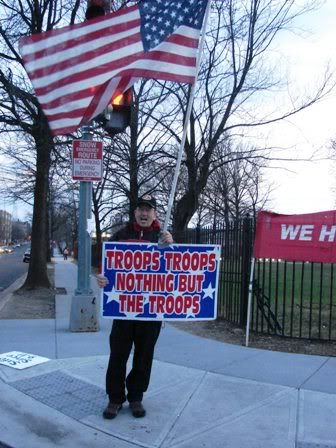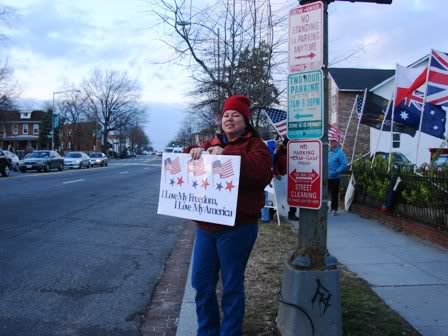 Trooprally

Jim, Fraxinus, CindyTrueSupporter and Hal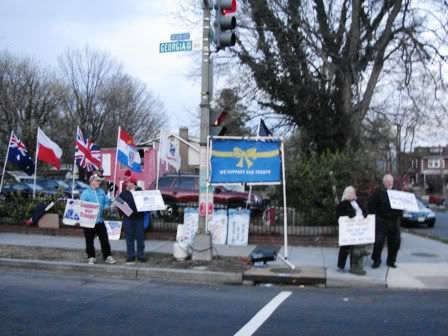 Jessica Rejoins the 4 Corner Offense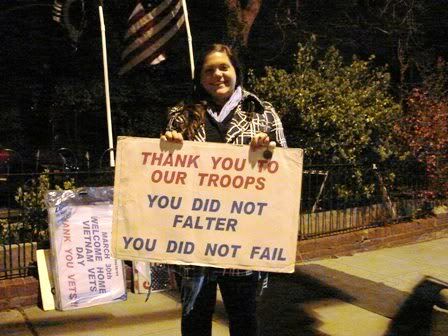 Lurker Bill and Kburi

Flag Row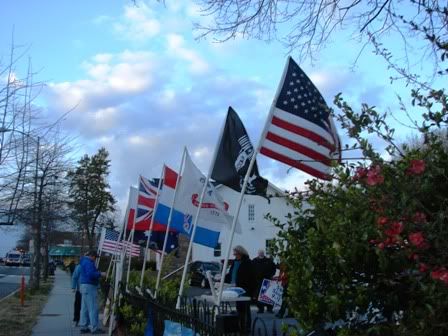 ---
TOPICS: Activism/Chapters; Free Republic; US: Maryland; US: Virginia
KEYWORDS: aar; rally; walterreed



---
To: kburi; 1 Olgoat; 103198; 10Ring; 11Bush; 1stbn27; 2ndhandrose; 2SterlingConservatives; ...
---
To: kburi
As if we needed any proof of the MSM's extreme basis.
Can you imagine the headlines if we were liberals protesting something?
But instead we are Conservatives supporting something.
And my local print media outlet wonders why I stopped buying their product eight years ago. I don't boycott - I refuse to pay for something that I place no value on.

---
To: kburi; Abundy; Albion Wilde; AlwaysFree; AnnaSASsyFR; bayliving; BFM; cindy-true-supporter; ...
---
To: kburi
---
To: kburi
Wind was brisk. It kept me from having the Marine Corps flag on my pole and the flags on Flag Row were on shortened poles.
And you say chilly? Lurker Bill broke out the heater.
A lot better weather forecast for our 312th Friday.
For those wondering whether to come, we will be having BBQ and pizza.
[Mr] T
6
posted on
04/04/2011 3:50:39 PM PDT
by
trooprally
(Never Give Up - Never Give In - Remember Our Troops)
---
FreeRepublic.com is powered by software copyright 2000-2008 John Robinson