---
Tucson shooting victim detained at taping of TV special (Obama's new "civility" program at work)
msnbc ^ | 1/15/2011 | msnbc


Posted on 01/15/2011 6:01:10 PM PST by tobyhill
---
Navigation: use the links below to view more comments.
first previous 1-20, 21-40, 41-60, 61-64 last
---
To: Charles Henrickson
Maybe someone with some "REAL" photo software can read some of the other titles.

61
posted on
01/15/2011 8:31:16 PM PST
by
OSHA
(Hey Muzzie! The Earth is not flat, When your face is toward mecca your a$$ is too!)
---
To: ETL
Say it again, REAL LOUD!
"Why would he be mad at Tea Party members? The lunatic shooter was a LEFTY."
EXACTLY. Map symbols are NOT bullseyes, and they know that, unless they're just useful Obama idiots.
62
posted on
01/15/2011 8:51:15 PM PST
by
Twinkie
(LEFTIST FREE SPEECH GOOD. - CONSERVATIVE FREE SPEECH BAD.)
---
To: tobyhill
The gathering for "After the Tragedy: An American Conversation Continued," to be shown as a special edition of "This Week" Sunday
Of course. ABC is behaving like the propaganda machine that it is - perpetuating this garbage and slander against Conservatives, Christians, Tea Party Members (oh...I forgot...."Tea Baggers"), Gun Owners, and anyone who is not a union thug or atheist Democrats.
The morning after union thug infested rally of "Wellstone 2", I listened to broadcast after broadcast on different networks that all repeated the same lies and spin. The script was written right out of the White House, and the media parroted it: "Obama consoled a nation........Obama called for 'healing'.......Obama called for civility....."
Lies. All of it.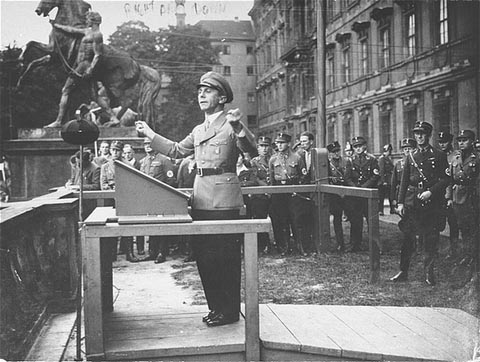 "It is the absolute right of the state to supervise the formation of public opinion.....not every item of news should be published. Rather must those who control news policies endeavor to make every item of news serve a certain purpose."
Dr. Joseph Paul Goebbels, Nazi Propaganda Minister and War Criminal
________________________________________________________________________
So, now we have this guy threatening murder on someone who did he no harm. This is what happens when the Demoncrats and Media spread this hate.
Sarah Palin has hundreds of death threats now. Why was she targeted? It is more cultural than political with her - the left hates and fears her more than anyone else. Liberal women will never forgive her fcr not aborting her son Trig who has Down Syndrome, and Liberal men are terribly afraid that she will become President.

---
To: tobyhill
The Pima County Sheriff's Office said J. Eric Fuller, 63, was involuntarily committed to an undisclosed medical facility, NBC News reported. The Associated Press said he was undergoing a psychiatric evaluation.
When the threat comes from an obvious leftist, you skip right past the recriminations based on politics and go straight to "he had mental issues".

64
posted on
01/16/2011 4:25:33 AM PST
by
Junior_G
(Funny how liberals' love affair with Muslims began on 9/11)
---
Navigation: use the links below to view more comments.
first previous 1-20, 21-40, 41-60, 61-64 last
---
---
FreeRepublic.com is powered by software copyright 2000-2008 John Robinson