---
To: daniel1212
What's Joe Bastardi's take on the outlook? :-)
19
posted on
11/18/2019 6:17:43 PM PST
by
SumProVita
(Cogito, ergo....Sum Pro Vita - Modified Descartes)
---
To: SumProVita
What's Joe Bastardi's take on the outlook? :-)
What I saw was not that detailed or concise. The summation made August 2019 was that,
Plenty of potential for a severe winter.
East will have to overcome early warmth.
SST analogs are amazingly close to a blend of 2013-14 and 2014-15.
Warm northeastern Pacific and cooler Nino1+2 usually a great cold signal.
Snowfall should be generous.
The conditions in the oceans around the U.S. are ripe for major arctic outbreaks, but the early season, as has been the habit of late, is likely to start warm in the East. The worst-case scenario is a brutally cold old-fashioned winter. Precipitation should be plentiful again in the East given, the natural fight between the cold air to the west and the warm oceans to the east.
The West looks warm, though the Euro would argue that the Pioneer is onto something, sticking more cold into the southern Rockies. Buckle up, there is going to be plenty of cold around with January-March being colder against the normals in the East than December-February. If you start late with the winter, you are liable to end late.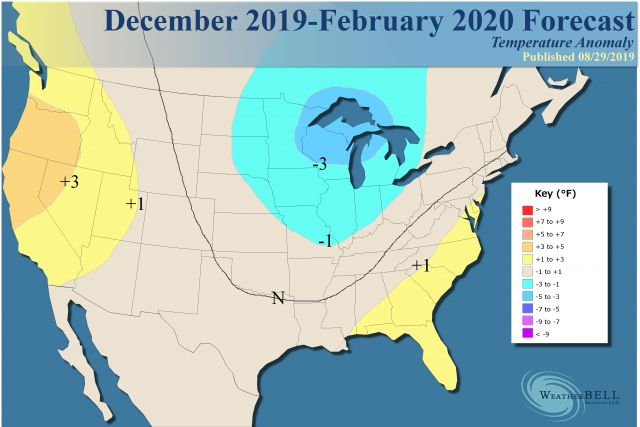 https://www.weatherbell.com/preliminary-2019-2020-winter-forecast

20
posted on
11/18/2019 6:28:51 PM PST
by
daniel1212
( Trust the risen Lord Jesus to save you as a damned and destitute sinner + be baptized + follow Him)
---
FreeRepublic.com is powered by software copyright 2000-2008 John Robinson