---
To: Extremely Extreme Extremist; gaijin
Tarantino wrote the film True Romance - one of the missus' favorite films - and Samuel Jackson has a small part in that one too. Gary Oldman's character stole the entire film though. It's worth it just to watch that one scene. But if you do, also watch the scene with Dennis Hopper and Christopher Walken it is a close second. The rest of the film, imo, falls flat but those two scenes are great. Also a young James Gandolfini has some scenes, and if I am not mistaken it was also Brad Pitt's first (or one of his first) acting roles. Lots of great bits in the film and a very talented cast.
Tarantino was making good money as a script consultant before his career took off as an auteur. He made his first movie Reservoir Dogs in 1992. True Romance was 1993. But he was getting paid something up to $500,000 to help punch up a a number of scripts for high profile films, often without getting a credit in the years before those two films.
---
To: monkeyshine
Don't forget his contribution to "Narural Born Killers"
---
To: monkeyshine
True romance is my favorite flick ever. "Is it white boy day?"
25
posted on
07/26/2019 5:49:10 PM PDT
by
enduserindy
(I'm done explaining basic math and the definition of freedom.)
---
To: monkeyshine
He was great on "Itchy and Scratchy"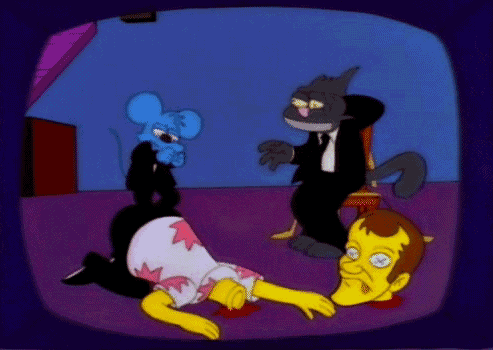 ---
To: monkeyshine
Is it true that Tarantino was a video store clerk before deciding to jump into movies?
43
posted on
07/26/2019 6:00:20 PM PDT
by
Extremely Extreme Extremist
(Isn't it funny that the very people who scream "My body, my choice" wants a say in your healthcare?)
---
To: monkeyshine
"The rest of the film, imo, falls flat.."
Aw, dude, there many awesome scenes in True Romance.
I loved the scene in the motel room when the goodfella comes to reclaim his dope & Patricia Arquette totally takes him on.
Also the scene where Bronson Pinchot is wearing the wire.
---
FreeRepublic.com is powered by software copyright 2000-2008 John Robinson