---
Disney Producer Jack Morrissey Apologizes for '#MAGAkids into the Woodchipper' Fantasy
Breitbart ^ | 22 January 2019 | Robert Kraychik


Posted on 01/22/2019 6:02:21 PM PST by KC_Lion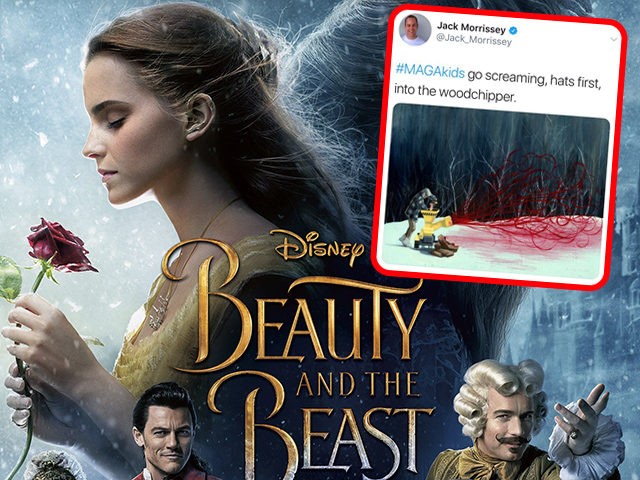 Film producer Jack Morrissey apologized on Monday for a social media post envisioning the bloody outcome of Covington Catholic High School students being put into a woodchipper.
Former Alaska Governor Sarah Palin captured and shared Morrissey's since-deleted tweet, which draws on a scene from the 1996 film Fargo in which a character's corpse is fed through a woodchipper:
....
Morrissey told the Wrap via statement:
It was something that I did not give any thought to. It was just a fast, profoundly stupid tweet. … I would throw my phone into the ocean before doing that again.
Yesterday I tweeted an image based on FARGO that was meant to be satirical — as always — but I see now that it was in bad taste I offended many people — My sincerest apologies. I would never sincerely suggest violence against others, especially kids. Lesson learned.
I have no issue whatsoever with taking responsibility, but also completely apologizing that I clearly intended it to be seen as satire. That was clearly not recorded that way by many who saw it.

(Excerpt) Read more at breitbart.com ...
---
TOPICS: Chit/Chat; Local News; Music/Entertainment; Society
KEYWORDS: boycottdisney; covington; disney; endlesstrash; fargo; hollywood; hollywoodreds; homofascism; jackmorrissey; kraychick; kraychik; maga; magahat; magakid; palin; robertkraychik; sarahpalin; waltsrotatingcorpse; woodchipper
---
Navigation: use the links below to view more comments.
first 1-20, 21-40, 41-60, 61-80, 81-97 next last
---
---
---
---
---
---
---
---
---
---
---
---
---
---
---
---
---
---
---
---
---
Navigation: use the links below to view more comments.
first 1-20, 21-40, 41-60, 61-80, 81-97 next last
---
---