---
To: 1_Rain_Drop
Anyone notice that Podesta is wearing black gloves?
Very good catch! Very weird & I presume his hands were then injured from spirit cooking ...
Now ... why, at Tony Podesta's 72nd birthday party, did everybody wear red shoes?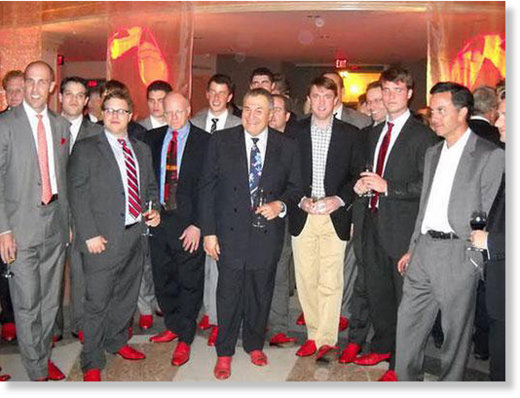 Also interesting, in the John Podesta e-mails on Wikileaks, there is an e-mail from somebody who met the [P]ope and he told Podesta how excited he was to show him his reddish-brown shoes and attached a photo.
---
To: Steven W.
Now ... why, at Tony Podesta's 72nd birthday party, did everybody wear red shoes?

---
Those specimens all look like members of the Dorothy Socity, - [sic] ha! - the club for gay men.
904
posted on
02/12/2018 6:58:54 PM PST
by
txhurl
(The Final Thunderdome: Two Americas enter, One America leaves.)
---
To: Steven W.
Not sure if this activity is somehow connected...raising money maybe
"The Red Shoe Party, CASA's largest fundraiser, makes up 25% of our annual budget. In order for CASA to serve more children in need, we seek to continue to grow our Red Shoe Party to support our program and services." "In 2018, celebrate your birthday by inviting your friends and family to join you in supporting CASA! Every donation makes a difference in the life of a child, and we are excited for you to consider being a part of the Birthday Network community!"
936
posted on
02/12/2018 7:30:46 PM PST
by
StormFlag
(Drain the swamp, but don't forget the disinfectant.)
---
To: Steven W.
For whatever reason it doesnt look like his hand in that photo but later in that same group of photos he is standing in the hall and his hand is normal again.
959
posted on
02/12/2018 7:47:17 PM PST
by
gnarledmaw
(Hive minded liberals worship leaders, sovereign conservatives elect servants.)
---
To: Steven W.
What's weird to me about the red shoes is that they are all the SAME red shoes.
And that's creepy about wanting to show them to the Pope.
1,015
posted on
02/12/2018 8:42:15 PM PST
by
TEXOKIE
(We must surrender only to our Holy God and never to the evil that has befallen us.)
---
To: Steven W.
More re RED SHOES
https://www.theawl.com/2011/05/a-little-history-of-red-shoes/
"...Historically speaking, this is true! Red shoes — if not always red soles — have long been associated with issues of power and identity. During the reign of Louis XIV, only aristocratic men had the right to wear shoes with red heels — they were strictly reserved for the court. Thus the color neatly distinguished between the haves and have-nots...'
Papal Shoes are RED - I had not known that.
https://en.wikipedia.org/wiki/Papal_shoes
Early in his pontificate Pope John Paul II wore red shoes; however he quickly adopted wearing ordinary brown shoes. Paul VI, John Paul I, and John Paul II were buried in the red leather papal shoes.
"...Pope Benedict XVI restored the use of the red papal shoes, which were provided by his personal cobbler, Adriano Stefanelli of Novara, who has several pictures and documents in his shoe-shop attesting the fact.[1][2] In 2008, Pope Benedict XVI also restored the use of the white damask silk Paschal mozzetta, which was previously worn with white silk slippers.[3]
Pope Francis has chosen to wear simple black shoes, forgoing the tradition for his papacy.[4]..."
Apparently the red shoes are a symbol of power. The links have pictures of red shoes being powerful.

1,028
posted on
02/12/2018 8:54:15 PM PST
by
TEXOKIE
(We must surrender only to our Holy God and never to the evil that has befallen us.)
---
FreeRepublic.com is powered by software copyright 2000-2008 John Robinson