---
PETA to Bigfoot Hunters: You Shouldn't 'Shoot and Kill It' Just Because You Can
|Myrtle Beach News Examiner ^ | February 1, 2014 | Norman Byrd


Posted on 02/02/2014 1:13:42 PM PST by DogByte6RER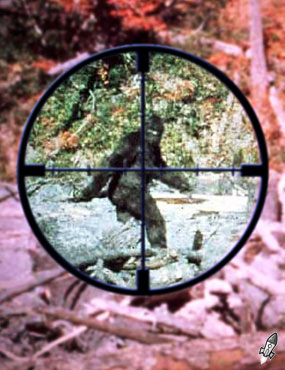 The People for the Ethical Treatment of Animals (PETA) are certain about one thing, even though they do not acknowledge that Bigfoot is real: It is just as unethical to kill a Sasquatch as it would be any other animal. In a report posted by the CBS Houston on Jan. 30, the animal rights activists reacted to the idea much as expected, because to members of their organization, shooting and killing a living creature, whether it be for food or sport, is an atrocity.
PETA spokesperson Lindsay Rajt told The Houston Chronicle: "As an organization we do oppose hunting of any kind. It's cruel and unnecessary and can damage populations and ecosystems."
Rajt spoke out against the shooting of the legendary Bigfoot creature in the wake of news that self-proclaimed "Master Tracker" Rick Dyer is going on the road to show of the Bigfoot he supposedly shot and killed outside San Antonio, Texas, in late 2012. Dyer says he will tour North America, carting the Sasquatch carcass from town to town to prove that Bigfoot does exist and that he actually killed one.
Dyer has already released several photos of the hairy beast he claims to have killed. Although many are putting it down as just another hoax, Dyer says it is his redemption (Dyer is most famous for having a hand in the 2008 Georgia Bigfoot Hoax) and has even challenged the Spike TV series "The 10 Million Dollar Bigfoot Bounty" to pay up.
"The bottom line is, when someone sees a rare, exotic animal their first instinct shouldn't be to shoot and kill it," Rajt said . "Just because you see something pretty, that doesn't mean it should be mounted on your wall."
...

(Excerpt) Read more at examiner.com ...
---
TOPICS: Chit/Chat; Food; Miscellaneous; Outdoors; Science; Society; Sports; Weird Stuff
KEYWORDS: alf; animalrights; banglist; bigfoot; biggame; cryptobiology; cryptozoology; hunting; mythology; peta; sasquatch; theotherwhitemeat; treehuggers; vegans; weirdscience
---
Navigation: use the links below to view more comments.
first 1-20, 21-39 next last
---
---
---
---
---
---
---
---
---
---
---
---
---
---
---
---
---
---
---
---
---
Navigation: use the links below to view more comments.
first 1-20, 21-39 next last
---
---