---
Astronomy Picture of the Day -- ISON, Mars, Regulus
NASA ^ | October 17, 2013 | (see photo credit)


Posted on 10/17/2013 4:24:29 PM PDT by SunkenCiv
Explanation: In order top to bottom this celestial snapshot features Comet ISON, planet Mars, and Regulus, alpha star of the constellation Leo, in the same frame. The scene spans about 2 degrees near the eastern horizon in early morning skies of October 15. Closest of the three, the much heralded Comet ISON (C/2012 S1) is by far the faintest at 14 light-minutes (1.7 AU) away. Mars is only slightly farther from our fair planet. About 16.5 light minutes (2 AU) away its normal ruddy color is washed out in the exposure. Regulus outshines both comet and planet from a distance of 75 light-years. Just above Regulus, the very faint smudge of light is actually the Leo I dwarf galaxy, 800,000 light-years away and almost lost in the glare of the bluish hued bright star. Comet ISON is expected to grow brighter, though. How bright is still not clear, but not as bright as a Full Moon in night skies. Estimated to be 1 to 4 kilometers in diameter, ISON's nucleus might substantially survive its very close encounter with the Sun on November 28. If so, the comet will climb back above the eastern horizon in planet Earth's northern hemisphere before dawn in early December.


(Excerpt) Read more at asterisk.apod.com ...
---
TOPICS: Astronomy; Astronomy Picture of the Day; Science
KEYWORDS: 2012s1; apod; astronomy; comet2012s1; cometison; greencomet; ison; mars; regulus; science
---
To: brytlea; cripplecreek; decimon; bigheadfred; KoRn; Grammy; married21; steelyourfaith; Mmogamer; ...
2
posted on
10/17/2013 4:27:57 PM PDT
by
SunkenCiv
(It's no coincidence that some "conservatives" echo the hard left.)
---
To: SunkenCiv
Now that the government has ROARED back to life, APOD has returned.
Can you believe Obamalamadingdong turned off APOD but left his wife's site up? Bat rastid that he is.
3
posted on
10/17/2013 4:44:59 PM PDT
by
West Texas Chuck
(Burn my flag? I'll piss on your ashes.)
---
To: West Texas Chuck
That mothertrucking icehole.
---
To: SunkenCiv
Here's the insanely optimistic representation of ISON for the morning of Oct 15 in my Starry Night software. They did they same thing for Panstarrs, which I did barely manage to see. ( I rotated the image using paint.net, and added the oval cropping. )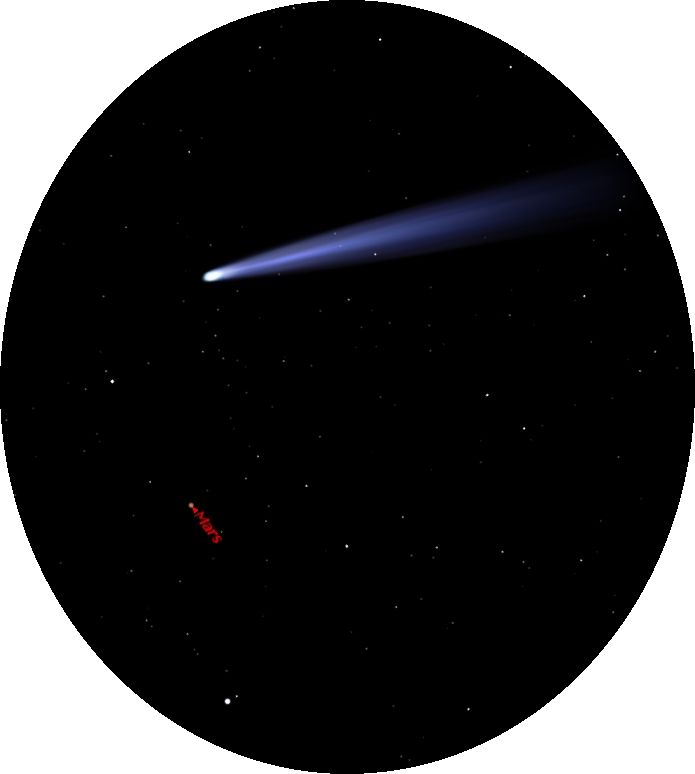 ---
FreeRepublic.com is powered by software copyright 2000-2008 John Robinson