---
Astronomy Picture of the Day -- Perseid Meteors Over China
NASA ^ | August 21, 2013 | (see photo credit)


Posted on 08/20/2013 9:20:57 PM PDT by SunkenCiv
Explanation: Comet dust rained down on planet Earth earlier this month, streaking through dark skies in the annual Perseid meteor shower. While enjoying the anticipated space weather above Zhangbei Prairie, Hebei Province, China, astronomer Xiang Zhan recorded a series of 10 second long exposures spanning four hours on the night of August 12/13 using a wide angle lens. Combining frames which captured 68 meteor flashes, he produced the above composite view of the Perseids of summer. Although the sand-sized comet particles are traveling parallel to each other, the resulting shower meteors clearly seem to radiate from a single point on the sky in the eponymous constellation Perseus. The radiant effect is due to perspective, as the parallel tracks appear to converge at a distance. The next notable meteor shower may be the Orionids in late October.


(Excerpt) Read more at 129.164.179.22 ...
---
TOPICS: Astronomy; Astronomy Picture of the Day; Science
KEYWORDS: apod; astronomy; perseids; science; warpspeed
---
To: brytlea; cripplecreek; decimon; bigheadfred; KoRn; Grammy; married21; steelyourfaith; Mmogamer; ...
2
posted on
08/20/2013 9:22:40 PM PDT
by
SunkenCiv
(It's no coincidence that some "conservatives" echo the hard left.)
---
To: SunkenCiv
I sat outside for four or five hours over two nights and saw four or five meteors. Of course, I had fairly bright skies in the "western 'burbs" of Chicago, so I wouldn't have seen most of the tracks in this composite. I did see one that had a "bulb" to it, like the one near the middle of the APOD. It wouldn't have been this same one, though, because we are "180 degrees out of phase" with China. It's all very mind expanding.
---
To: dr_lew
Here's a mark-up showing Cassiopeia and Polaris, near center. I was observing mostly to the upper right of Cassiopeia, out of frame in this picture, although I did get this view of the sky shortly after midnight. Since this composite spans several hours, we can't take the frame of the picture to represent a single horizontal view.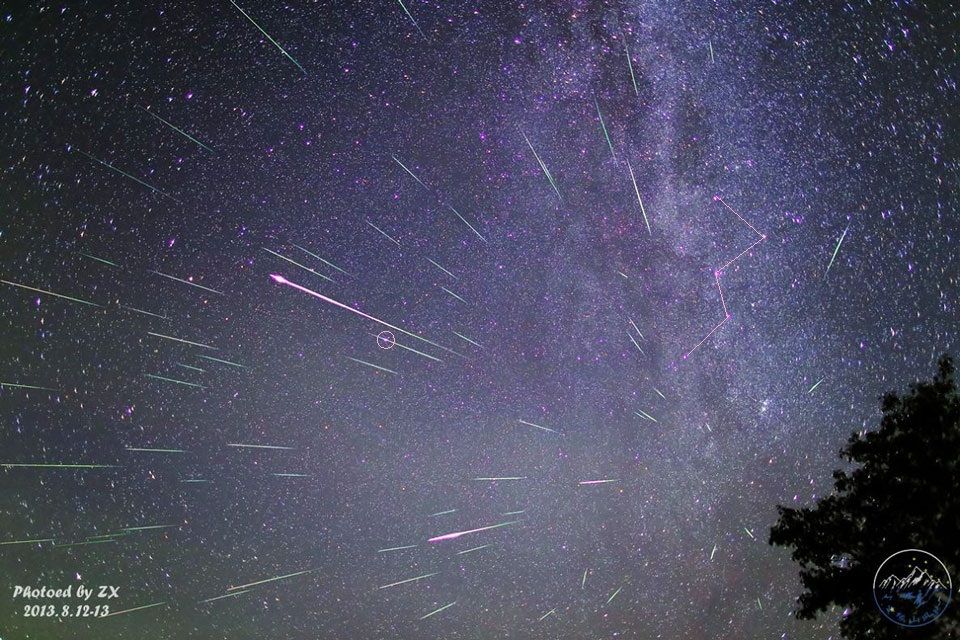 ---
To: dr_lew
The peak nights were cloudy here but I saw a few during a midnight watch on days before and after the peak times .Say five meteors in two hours outside that were spent mostly observing stars to the south south.
5
posted on
08/22/2013 7:48:15 PM PDT
by
hoosierham
(Freedom isn't free)
---
FreeRepublic.com is powered by software copyright 2000-2008 John Robinson