---
VANITY: How can Julian Assange get himself out of the Ecuadorean Embassy in London?
self ^ | 8/16/12


Posted on 08/16/2012 12:06:45 PM PDT by SilvieWaldorfMD
---
Navigation: use the links below to view more comments.
first previous 1-50, 51-53 last
---
To: liberalh8ter
Helicopter from embassy rooftop to France where a car awaits?
No actual embassy rooftop. The embassy is a ground floor apartment in a building with other tenants. (you can see the Ecuador flag outside the embassy flat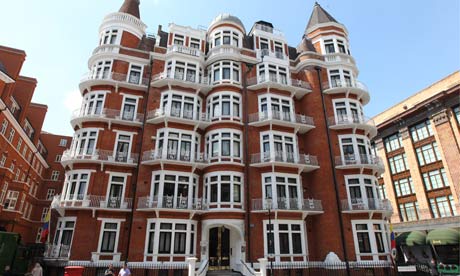 (The building roof also does not look helicopter friendly).
Actually I see odd couple sitcom potential here. South American Ambassador and smug Oz wanker sharing a small embassy flat and getting on each other's nerves.

51
posted on
08/16/2012 11:44:43 PM PDT
by
Oztrich Boy
(Monarchy is the one system of government where power is exercised for the good of all - Aristotle)
---
To: 2ndDivisionVet
Rofl! They'd look good on Julian!
---
To: Oztrich Boy
You're right. That building, while beautiful as it is, isn't helicopter friendly. That makes this situation popcorn worthy. I do think you're on to something here because Assange will either need to live out his life in that embassy (room) or he's going to get apprehended. I can hear the Ambassador moaning, now. It could be a modern day, 'Odd Couple'.

53
posted on
08/17/2012 4:51:36 AM PDT
by
liberalh8ter
(If Barack has a memory like a steel trap, why can't he remember what the Constitution says?)
---
Navigation: use the links below to view more comments.
first previous 1-50, 51-53 last
---
---
FreeRepublic.com is powered by software copyright 2000-2008 John Robinson