---
(-:(-:(-:THE OFFICIAL FRIDAY SILLINESS THREAD:-):-):-)
Posted on 04/27/2012 5:48:40 AM PDT by Lucky9teen
Trayvon Martin's Mother Files Paternity Action Against Obama
Sybrina Fulton, the mother of Trayvon Martin, the teen who was shot and killed by a self-appointed neighborhood security guard, has filed a paternity action against President Obama, seeking back child support for the 17 years of Trayvon's abbreviated life.

Fulton filed the claim after President Obama admitted, "If I had a son, he'd look like Trayvon."

Fulton explained, "I'd noticed the resemblance as well. So it really struck me when Barack mentioned it, too." Fulton stated that while she is not entirely certain that Obama is Trayvon's father, the statistical possibility is such that a paternity test is warranted.

Some have characterized Fulton's lawsuit as a transparent ploy to tap into President Obama's financial assets, while others consider the claim a justifiable attempt to bring new zeal to police's thus-far lackluster efforts to apprehend Trayvon's killer, George Zimmerman. President Obama has neither confirmed nor denied the claims.
Polls Show Most Americans Think Election Already Happened
While America is known for its widespread voter apathy, recently reported levels of sheer voter ignorance still managed to astound long-time political analysts when polls revealed that nearly 72% of Americans believe that the 2012 presidential election has already occurred.

"I thought Obama said he was going to withdraw completely within the next year," said 24-year-old Rachel DeMill of Brooklyn, New York. "Or was he talking about something besides the election?"

Trent Patterson of Hartford, Connecticut, stated, "I thought the finals were the other night. Didn't Mitt Romney's home state of Kentucky end up winning?"

When asked who she thought had become America's new president and vice president, Ebony Smith of Jacksonville, Florida, answered with no hesitation. "Obama, of course, and he spoke out in favor of Trayvon Martin for vice president. Thank God, I could never have voted for George Zimmerman."

Boston resident Joe Platt told a poll-taker, "It was big blow to us here in Massachusetts, but Romney didn't end up winning. I didn't see the final race results but I heard it was a Kenyan who won, so it must have been Obama."

When asked if he himself had cast a vote in the election, Platt replied, "Not yet, but I

filed

for the automatic six-month extension, so I should be fine submitting it late."

Kimberly Preston, an actress/model

living

in Los Angeles, may have put it best: "I have no idea if the election's over, but I'm definitely over it."


Obama to Visit The United States Next Month
Washington, D.C.-Barack Obama will make a three day visit to the United States next month as part of a whirlwind tour of the Americas. The visit, scheduled for May 25th through the 28th, will be only the fourth visit by Mr. Obama to the United States in as many years.

During his visit he hopes to tour the White house, Capitol Hill and the Supreme Court, although only the White House visit could be confirmed at press time. Mr. Obama will be traveling with his Aunt Tuenita, his Uncle Charlie, and three unrelated boys, Rob, Chip and Earnest, whom he calls "My Three Sons".

"We're all very excited that Mr. Obama would deem us worthy of a visit." exclaimed White House Chef, Earl Schieb, adding that he will make sure to have plenty of Skittles on hand to placate the boy's hunger for the sweets.

"We don't want a repeat of what happened last time the boys were here and they had to go out in the middle of the night, in their hoodies, to find some."

Michelle, and the couple's daughters will not be on this leg of the trip, jetting on ahead of their husband and father, to the family's next vacation destination in Cartagena, Colombia.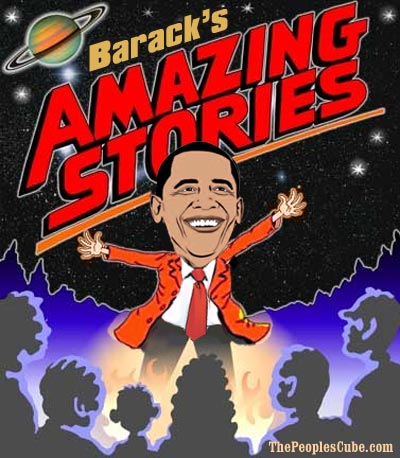 ---
TOPICS: Humor
KEYWORDS: friday; ofst; silliness; storytelling
---
Navigation: use the links below to view more comments.
first previous 1-20, 21-40, 41-60, 61-71 next last
---
---
---
---
---
---
---
---
---
---
---
---
---
---
---
---
---
---
---
---
---
Navigation: use the links below to view more comments.
first previous 1-20, 21-40, 41-60, 61-71 next last
---
---