---
"My Favorite Blonde," "Joe Smith, American" (Movie Reviews-4/2/42)
Microfilm-New York Times archives, Monterey Public Library | 4/2/42 | Bosley Crowther, T.S.


Posted on 04/02/2012 4:24:22 AM PDT by Homer_J_Simpson

1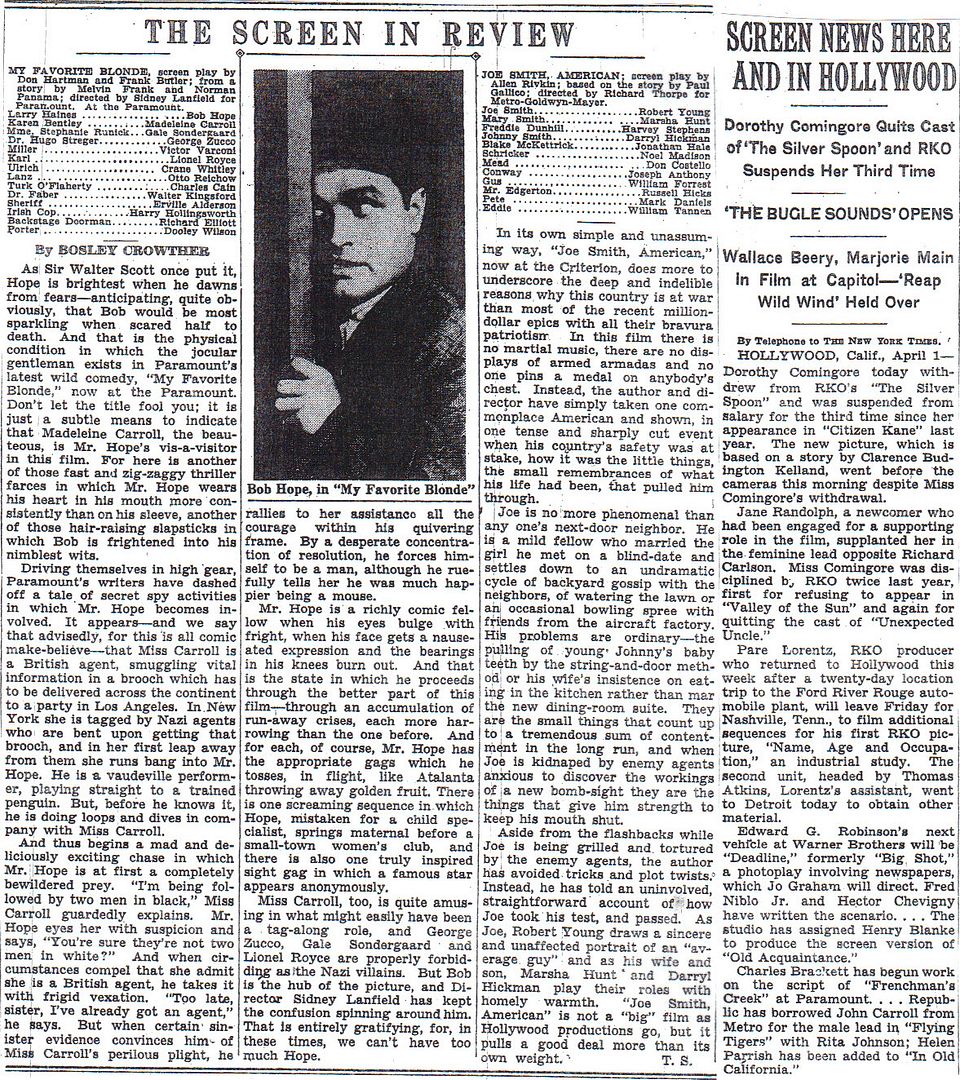 2
3
---
TOPICS: History; TV/Movies
KEYWORDS: moviereview; realtime

Free Republic University, Department of History presents

World War II Plus 70 Years: Seminar and Discussion Forum

First session: September 1, 2009. Last date to add: September 2, 2015.

Reading assignment:

New York Times

articles delivered daily to students on the 70th anniversary of original publication date. (Previously posted articles can be found by searching on keyword "realtime" Or view

Homer's posting history

.)

To add this class to or drop it from your schedule notify Admissions and Records (Attn: Homer_J_Simpson) by freepmail. Those on the Realtime +/- 70 Years ping list are automatically enrolled. Course description, prerequisites and tuition information is available at the bottom of Homer's profile. Also visit our

general discussion thread
---
To: r9etb; PzLdr; dfwgator; Paisan; From many - one.; rockinqsranch; 2banana; henkster; meandog; ...
2
posted on
04/02/2012 4:26:42 AM PDT
by
Homer_J_Simpson
("Every nation has the government that it deserves." - Joseph de Maistre (1753-1821))
---
To: Homer_J_Simpson
As a kid, I only knew Robert Young as "Marcus Welby MD" in the not very convincing TV show. Only recently have I realized that he had a long movie career before Father Knows Best and Welby.
3
posted on
04/04/2012 4:36:49 AM PDT
by
iowamark
(The fault, dear Brutus, is not in our stars, But in ourselves)
---
To: iowamark
Another actor in the cast of "Joe Smith, American" would also go on to be a TV fixture in later years. Darryl Hickman, who was the older brother of Duane "Dobie Gillis" Hickman, began appearing in movies in 1939. His first credited role was in "The Grapes of Wrath," in 1940. His imdb.com page has a long list of television appearances in the 50's and 60's.
4
posted on
04/04/2012 5:29:01 AM PDT
by
Homer_J_Simpson
("Every nation has the government that it deserves." - Joseph de Maistre (1753-1821))
---
FreeRepublic.com is powered by software copyright 2000-2008 John Robinson