---
Thanksgiving With A Space Alien
People's Cube ^ | 11/27/2006 | Staff


Posted on 11/24/2010 7:39:52 PM PST by Christian Engineer Mass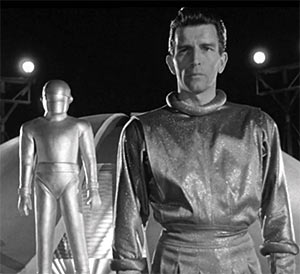 Last Thursday a flying saucer landed in my backyard. A friendly, if slightly disoriented alien pilot told me he needed a drink. I had just what he wanted, since this was Thanksgiving and all. I was glad to have company so I wouldn't have to eat my famous fat-free vegetarian imitation turkey all alone.
His name was Ollie and he came to Earth looking for an honest, self-reliant, optimistic, and technically inclined nation that could benefit from a contact with his more advanced civilization. "Whoa, whoa!" I raised my finger. "To call yourself advanced you must take at least three diversity training classes. What planet are you from, really?"
~ "There's no such thing as a more advanced civilization," I said. "All civilizations are equally advanced; they just find different ways to express their advancement." My guest laughed. "I just escaped from a planet where people eat their neighbors whom they kill with sharp rocks. Does that sound advanced to you?" "That is a value statement," I objected. "Did you try to examine the cause of their anger? Could they, perhaps, be hungry? Could they be disenfranchised victims of unfair trading policies, exercising early forms of class struggle against the oppressive neighbors? They didn't kill innocent chickens; that we do know." "They sure wanted to kill and eat me. Come on, they're savages." Savages? Really? "If you must use the 'S' word," I said indignantly, "have the decency to modify it with the word 'noble' - as in 'noble savage.'" "They threw me into the fire," he said. "I was saved by my asbestos spacesuit, which they thought was my shiny skin. They're savages alright." "At least they didn't harm the environment

(Excerpt) Read more at thepeoplescube.com ...
---
TOPICS: Cheese, Moose, Sister; Chit/Chat; Humor
KEYWORDS: aliens; spacealiens; thanksgiving; ufo



---
To: Christian Engineer Mass
Fabulous post! Click the link and read the whole thing - and then read the comments, they're great!
2
posted on
11/24/2010 8:23:05 PM PST
by
Talisker
(When you find a turtle on top of a fence post, you can be damn sure it didn't get there on its own.)
---
To: Christian Engineer Mass
Thanks for the good humor!
Good political humor is a rare commodity indeed!

---
To: Christian Engineer Mass
The article is hilarious. The comments are amazing!
---
To: Christian Engineer Mass
Whew - I though this was another Dennis Kucinich thread...
5
posted on
11/24/2010 8:57:30 PM PST
by
reagan_fanatic
(Scratch a "progressive" and a fascist bleeds)
---
To: Talisker
"Klaatu.. Barada.. Pinko!"
6
posted on
11/25/2010 7:18:24 AM PST
by
BenLurkin
(This post is not a statement of fact. It is merely a personal opinion -- or humor -- or both)
---
FreeRepublic.com is powered by software copyright 2000-2008 John Robinson