---
To: JustAmy; yorkie; MEG33; Lady Jag; LUV W; Billie; Mama_Bear; Kitty Mittens; FRiends
Thank you, Amy, for your graphics and greetings to everyone! Hope you're having a good day! The picture below I have had in my files for a long time and some may have seen it but I am posting again because I like it so much.
FORTY MILES FROM BAGDAD
Things were pretty bad at that time
Precious Puppy found him a home
Aren't our military guys just wonderful?
2,435
posted on
06/26/2009 11:41:03 AM PDT
by
jaycee
("His eye is on the sparrow and I know He watches me.")
---
To: jaycee
That is a precious picture.
Our military guys and gals are awesome. Can't imagine the things they endure to protect our FReedoms.
May God Bless and Protect them.
2,437
posted on
06/26/2009 11:56:29 AM PDT
by
JustAmy
(Prayers for Dusty, one of our wounded warriors of peace.)
---
To: jaycee; JustAmy; yorkie; MEG33; LUV W; Billie; Mama_Bear; Kitty Mittens; FRiends
Pups do a lot for our peeps over there, like the one you posted guarding weapons, Jaycee.
Puppies are also progressing in rank and ability and some say Golden Retrievers learn especially fast as illustrated below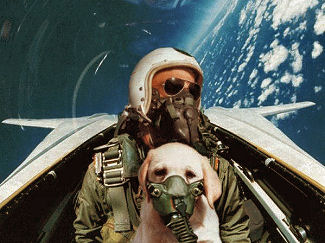 Turn Left 90 On Signal


2,445
posted on
06/26/2009 1:26:13 PM PDT
by
Lady Jag
(Communism + Hezbollah + Al Qaeda + Obama + StoneAge = CHAOS)
---
To: jaycee
That is SO sweet! I hope he got to come home with his troop!
2,449
posted on
06/26/2009 1:52:03 PM PDT
by
LUV W
( "You can spend your money better than the government can spend your money." GWB 6-17-09 AMEN!!!!)
---
To: jaycee
Our military is wonderful indeed..I love this picture!
---
FreeRepublic.com is powered by software copyright 2000-2008 John Robinson