---
To: wolfhound89
My favorite Gothic structure is the Dom Cathedral in Cologne Germany.
My favorite artist of the time is Albrecht Durer.
I have never been to Germany; there will be much to see when I get there.
Durer is really of the High Renaissance of the 16th century. His figures are well proportioned (influenced by the Italians), even if his women are a bit Teutonic. His detail is amazing.
For those who don't know Durer, here is his Adam and Eve and St. Jerome in his Study.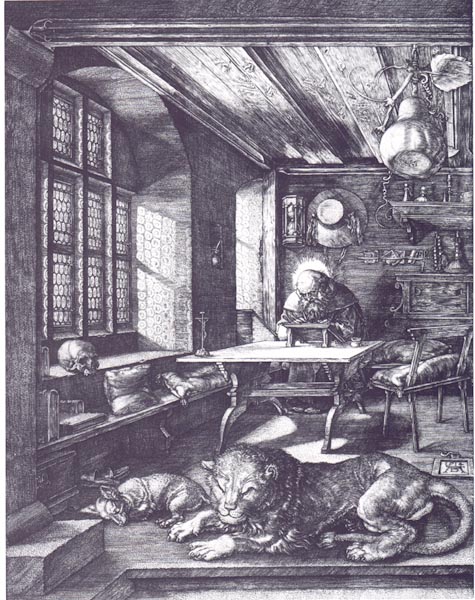 ---
To: Republicanprofessor
Had Dürer never seen a lion? He had clearly seen a Corgi or similar type European herding dog . . . but maybe there weren't any lions handy, or just a badly stuffed example?
23
posted on
10/08/2005 11:09:30 AM PDT
by
AnAmericanMother
(. . . Ministrix of ye Chace (recess appointment), TTGC Ladies' Auxiliary . . .)
---
To: Republicanprofessor
You're right about the time period. I guess I kind of lumped everything from the 1400's to 1500's as part of the Gothic era.
My personal fav engraving that he did is "The Knight, Death and The Devil". His self portraits and paintings of nobility and peasants were all hightly detailed.
24
posted on
10/08/2005 11:10:33 AM PDT
by
wolfhound89
(Are we Americans or American'ts?)
---
FreeRepublic.com is powered by software copyright 2000-2008 John Robinson