---
The Chinese flu is the fault of the Jooose? Who knew?? Some words of wisdom from the late great Golda Mier,
"We Jews have a secret weapon in our struggle with the Arabs – we have no place to go."
"It was not as if there was a Palestinian people in Palestine and we came and threw them out and took their country away from them. They did not exist."
"We can forgive the Arabs for killing our children. We cannot forgive them for forcing us to kill their children. We will only have peace with the Arabs when they love their children more than they hate us."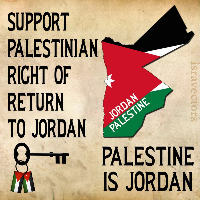 ---
To: Impala64ssa
These d...ed Fakestinian terrorist gangsters and liars need to be removed from Israel. Unfortunately, Jerusalem just keeps protecting and enabling them instead. Just today, the Israeli govt extended another bunch of money to the PLO. Its downright stupid, imho.
2
posted on
04/16/2020 10:51:46 PM PDT
by
faithhopecharity
("Politicians are not born, they are excreted." Marcus Tullius Cicero (106 to 43 BCE))
---
To: everyone
4
posted on
04/17/2020 6:33:31 AM PDT
by
deoetdoctrinae
(Gun-free zones are playgrounds for criminals.)
---
To: Impala64ssa
Meanwhile, back at the ranch, Mossad admits to stealing corona virus related medical supplies destined for and paid for by other countries.
Siding with either Israel or Palestine over an issue neither one actually wants to resolve any way but by force is just deciding which glass house you want to be in when you throw rocks.

5
posted on
04/17/2020 10:54:01 AM PDT
by
Rashputin
(Jesus Christ doesn't evacuate His troops, He leads them to victory !!)
---
FreeRepublic.com is powered by software copyright 2000-2008 John Robinson