---
Guns for Small Game Hunting
Am Shooting Journal ^ | 10/22/2019 | J Dickson


Posted on 10/22/2019 8:31:42 AM PDT by w1n1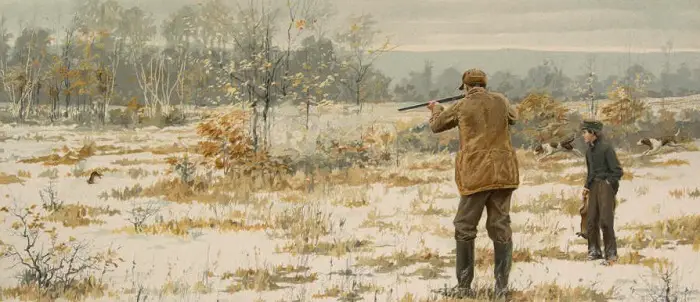 For rabbits and squirrels, the most efficient and humane gun is a 12-gauge shotgun with number 6 shot. This provides the quickest and cleanest kills with the least chance of a wounded animal escaping to die a lingering death. It is by far the surest way to bring home dinner.
The semiautomatic shotgun is popular, as it tends to mitigate recoil, while the pump shotgun can be had at very reasonable prices. While they hold more shells than a double, their rate of sustained fire is actually less than the fast-reloading double.
WHILE .22 LONG RIFLE is the most popular small game rifle caliber, it requires absolutely perfect shot placement for quick humane kills. Ever since it was first used on game, there have been hunters condemning it as inhumane on game due to the large number of wounded game that escapes to slowly die from their wound.
The .32-20 in the M1873 and M1892 Winchester, as well as in the Remington Rolling Block and other rifles, was considered the ultimate small game round, as it was the perfect balance between clean fast kills and not ruining too much meat. The .38-40 (which is really a .40-caliber and by all rights should be called the .40-40) and the .44-40 did excellent service as well.
THIS BRINGS US to the Army M1 carbine. While the case of the M1 carbine cartridge bears no resemblance to the .32-20, ballistically they are equivalent. Anything the .32-20 high-velocity load will do in a M1873 Winchester, the .30 carbine will do in the M1 carbine. These rounds are as fast as you can go without ruining a lot of meat.
All of these calibers could be and were used on anything else that came along. They were the true all purpose cartridges, able to take both small and large game. Of course hunters exclusively after big game generally chose a heavier caliber more appropriate for big game, but for those just hunting for their dinner, the smaller calibers were the best answer.
PISTOLS HAVE TAKEN a vast amount of small game over the years because they are there when the game is encountered. The old Colt Single Action Army probably brought more game to bag than any other pistol in America because of its widespread use on the frontier, where a ready meal was not to be wasted. A very easy gun to hit with, it proved a ready provider of meals to many a hungry frontiersman. You cannot have a rifle handy at all times when you are working, but the pistol can always be in its holster at your side.
THE BEST DOUBLE-ACTION hunting revolver I have encountered is the 4-inch-barrel .45 Colt Ruger Redhawk. This gun can be fired single action, but its double-action trigger pull is so superb that it can be fired just as accurately double action with practice. I certainly can't say that about every revolver. This gun has virtually no felt recoil thanks to its weight and well shaped rubber grips. It is extremely pleasant to shoot. Read the rest of small game hunting.

---
TOPICS: Hobbies; Outdoors
KEYWORDS: blogpimp; clickbait; hunting; readtheresthere
---
---
---
---
---
---
---
---
---
---
---
---
---
---
---
---
---
---