Obama's stupidity never ends.....like when he told latinos to vote against "their enemies," as Midterm elections turned into a Democrat bloodbath.
Illegals are well-briefed on US law WRT getting on the gravy train----most of the US tax dollars they score are sent back home to Third World hellholes where they intend to retire.......as the US govt checks keep rolling in.
RIDING THE US GRAVY TRAIN An illegal alien w/ wife and five children violates our borders. He gets a job mowing lawns for $5.00 or 6.00/hour. At that low wage, with six dependents, he pays no income tax, so each year, he files an Income Tax Return to get "EITC---earned income credit" of up to $3,200 scot-free. He qualifies for Section 8 housing and subsidized rent. He qualifies for food stamps and no deductible, no co-pay free health care. His children get free school breakfasts and lunches. The kids qualify for monthly SSI checks, faking ADD; the illegal and his wife get SSI if they fake being aged, blind or disabled; SSI qualifies them for Medicare. Plus illegals don't worry about pricey car insurance, life insurance, or homeowners insurance, and qualify for relief from high energy bills. All that is collected with one identity.
========================================
REFERENCE NOTE Earned Income Tax Credit is available only to immigrant workers who obtain legal work status. But the law allows immigrants to claim EITC for up to three years prior to obtaining that status. Workers simply file a tax return for the years in which they were not legally eligible to work in the US. The most widespread abuse stems from the requirement that children live with the worker for more than six months of the year. IRS does little to verify the claim. Many immigrants claim non-existent children, or claim children who they've left behind with relatives. Those with two or more children and income below $32,121 could get as much as $4,008. It is estimated that illegals received $22 billion EITC.
==================================================
Illegals know their strength is is forming voting blocs to put pressure on lawmakers. They establish multiple identities.......AND ALL OF THEM VOTE.
Illegals establish several identities with phony SS nos and fake documents these "impoverished immigrants" buy from itinerant document brokers for several thousand dollars.
THE LUCRATIVE PHONY ID BUSINESS----NORTH BERGEN, NJ -- July 21, 2006 -- Pelcastre brothers, Angel and Jorge, Dallas, Texas, were a walking threat to US national security, expert document forgers who, for a few thousand dollars, could give anyone a new identity, L/E said. The Texas brothers turned a NJ hotel room into a business office and were readying a massive cache of fake Social Security cards for delivery to a local NJ identity broker.
The Texas brothers were a "one-stop shop" for a myriad of fake US documents, including birth certificates, Social Security cards, driver's licenses for any state in the US, passports and resident alien cards, said state police. Officers happened upon two cars bearing Texas plates in a NJ hotel parking lot. Authorities wouldn't identify the NJ hotel by name for fear it would spark retribution from savage drug cartels operating in the US.
The Texas brothers were followed to a NJ office supply store nearby where they purchased computer supplies. Officers then followed the Texans to a NJ storage facility in Secaucus, NJ, where the Texans loaded several boxes into a car. One of them stood lookout. L/E approached the Texas brothers when they returned to the NJ hotel and questioned them separately. The Texas brothers consented to a search.
Police recovered laminating sheets with built-in security features, pages of blank documents waiting for fake names and information, finished documents, computers and software to create the fake IDs.
All told, the haul was worth about $500,000 on the street. Police also recovered $6,000 in cash, which was the first payment from a NJ fake document broker for a shipment of 500 fake Social Security cards. ####
===========================================
REFERENCE Hayward, California woman charged in mass thefts of IDs
Henry K. Lee / Copyright San Francisco Chronicle. All rights reserved. This material may not be published, broadcast, rewritten or redistributed.

Oakland Police Dept Mug Shot: Mishel Caviness, Hayward, accused of
running a large-scale operation devoted to stealing people's identities.
HAYWARD, CALIFORNIA -- A Hayward woman has been charged with numerous felony counts for allegedly running an identity-theft operation that created fake Social Security and California identification cards, checks and credit cards. Mishel Caviness, 40, was arrested after an investigation by Oakland police and the U.S. Secret Service.
The probe began when an Oakland city employee reported in January that someone was fraudulently cashing her checks, according to police Officer Ryan Goodfellow and court records. Caviness was identified with the help of surveillance-camera footage from Bay Area stores, police said.
A search of her apartment on the 21000 block of Foothill Boulevard in Hayward last week uncovered a printing operation capable of making fake checks and credit cards, police said. Also found were 900 blank credit cards, personal information belonging to as many as 1,000 people, blank checks and computers, police said.
Alameda County prosecutors charged Caviness with forgery, identity theft, forgery of a driver's license and grand theft. She has a previous conviction for welfare fraud and told police that she is disabled and unemployed. She is being held at Santa Rita Jail in Dublin in lieu of $325,000 bail.
SOURCE http://www.sfgate.com/cgi-bin/article.cgi?f=/c/a/2011/05/16/BAPP1JGPTT.DTL#ixzz1MotxGM5R Page C - 3 of the San Francisco Chronicle

Nothing good has come from this plague of lawbreakers violating our borders. Karl Rove was WRONG----they came from hellholes whining about a "better life".....but that was a ruse. They DID NOT embrace democracy once they had a taste of it as Rove famously said. On the contrary, they are a national security threat-----and are conspiring to tear down democracy---and their home countries are helping them. Read on:
======================================
News reports say Mexico, Argentina, Brazil, Chile, Colombia, Costa Rica, El Salvador, Guatemala, Honduras, Nicaragua and Peru and are conspiring to collude with The Anti-Defamation League, The American Civil Liberties Union, the Southern Poverty Law Center and several other civil and immigrant rights groups to infringe on US sovereignty to make laws as we see fit. The co-conspirators filed a federal class-action lawsuit against Georgia's law and are now asking a judge to halt the measure pending the outcome of their case.
===========================================
They only look like they're mowing our loans and flipping burgers in fast food joints. The main occupation of these hyphenated-separatists is creating chaos to divert attention from the Marxist Third World they are building on US soil.
These anti-American criminals consider the United States an invader state---a foreign power imposed on Third World hellholes. They arrogantly refuse to refer to the US by its legal name. The US is known by Mexicans as el Norte, ("the North"), el Otro Lado ("the Other Side"), or Gringolandia (the "Anglo Entity").
Freud would have a field day with these people----that "warrior" mentality evidences a distinct lack of self esteem. They actually think we are "frail white people." That's what the Japanese thought. The same mistake Mexicans made with Texans. The disturbed left's identity politics with its propensity to separate and balkanize America moves ahead apace with the era of Obama. You remember Obama? The post-racial president that was supposed to "heal" America? Yeah, that one.
=============================================
Phoenix Latinos will protest in Atlanta
"We are taking over this land and anybody who doesn't like it should go back to Europe"
The Examiner | May 20th, 2011 | Miguel Perez
FR Posted Sat, May 21, 2011 by moonshinner_09
Georgia won't be part of the proposed Latino homeland of Aztlán, but Latino civil rights leaders from Phoenix will march and protest in different parts of Atlanta next week for immigration laws they view as unjust. "Latinos won't stay at the back of the bus anymore. We are taking over this land and anybody who doesn't like it should go back to Europe," says Jorge Serrano of Take Back Aztlán. "Racism should not be tolerated anymore in this country. Trying to get rid of Latinos is nothing but racist," says Cecilia Maldonado of Chicanos Unidos Arizona, who will be meeting with Latino civil rights leaders in Atlanta to propose national boycotts. (Excerpt) Read more at examiner.com ...
================================================
Translated from the Espanol------Third World federales are salivating over looting the US treasury. Can't wait to get their hands on the loot.
=============================================
Just here for a better life (sob).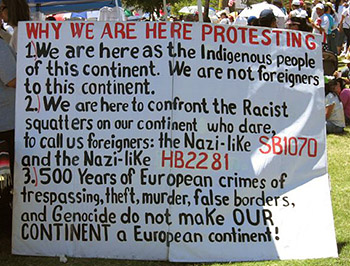 WAITING TO GET THEIR ORDERS FROM MEXICO
Reconquista shock troops at Phoenix Capital protest, May 29, 2010.
2009---TEXAS DREAM ACT DEMONSTRATION
In secret enclaves, they conspire to destroy the USA from within.