---
'Party of the People' Hides from Them
Publius Forum ^ | 06/08/10 | Warner Todd Huston


Posted on 06/08/2010 10:05:51 AM PDT by Mobile Vulgus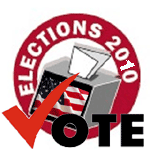 Remember those hoary days of yesteryear, those days when Democrats puffed themselves up as "the party of the people," of that "party of the common man"? Flash forward to 2010 and we find that those stalwart homespun congressmen, born of the people have set a policy to avoid those "people," the voters, at all costs. This summer break instead of coming home to visit with constituents and hearing them out at traditional townhall meetings that are usually held by members of Congress returning home, today's Democrats are skulking into town quietly and once home refusing to hold such meetings where they can see their constituents.
So much for the "party of the common man," eh?
In fact, Democrats have turned so cynical that Republicans are the ones having more townhalls than members of the majority governing party in Washington...
Read the rest at Publiusforum.com...

---
TOPICS: Government; Local News; Politics
KEYWORDS: congress; democrats; townhalls

Democrats hiding under their beds afraid to allow their constituents to see them during this recess?

---
To: Mobile Vulgus
Democrats should be reminding everyone about the tax hikes, the Socialized Medicine, the surrendering of the country to terrorists, the upcoming Amnesty bill, etc.
DailyKos tells me these are the winning issues of 2010. :)
2
posted on
06/08/2010 10:08:25 AM PDT
by
Tzimisce
(No thanks. We have enough government already. - The Tick)
---
To: Mobile Vulgus
Wait until those tax cuts sunset in 2011.
3
posted on
06/08/2010 10:16:53 AM PDT
by
Jack Hydrazine
(It's the end of the world as we know it and I feel fine!)
---
FreeRepublic.com is powered by software copyright 2000-2008 John Robinson