---
Obama's White House is Falling Down (Outstanding Summary of Obozo's Presidency Alert)
Canada Free Press ^ | June 11, 2009 | Daniel Greenfield


Posted on 08/12/2009 8:44:49 AM PDT by Zakeet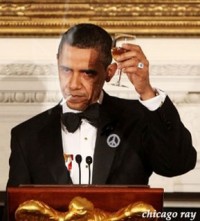 In the sixth month of his presidency, Obama has turned an economic downturn into an economic disaster, taking over and trashing entire companies, and driving the nation deep into deficit spending expected to pass 10 trillion dollars.
Abroad, Obama seems to have no other mode except to continue on with his endless campaign, confusing speechmaking with diplomacy. It is natural enough that Obama, who built his entire campaign on high profile public speeches reported on by an adoring press, understands how to do nothing else but that.
[Snip]
While the press is still chewing over Obama's Cairo speech, this celebrity style coverage ignores the fact that Obama's endless world tour is not actually accomplishing anything. Instead his combination of ego driven photo op appearances and clueless treatment of foreign dignitaries have alienated many of America's traditional allies. Those who aren't being quietly angry at Obama, like Brown, Merkel or Netanyahu, instead think of him as as absurdly lightweight, as Sarkozy, King Abdullah or Putin do.
[Snip]
At home, if Obama was elected as depression era entertainment, the charm of his smiles and his constant appearances on magazine covers appear to be wearing thin on the American public. Despite the shrill attacks on Rush Limbaugh or the Republican Enemy of the Weak-- the Democratic party of 2009, is polling a lot like the Republican party of 2008. The Democrats have suddenly become the incumbents, and the only accomplishment they can point to is lavish deficit spending, often on behalf of the very same corporations and causes they once postured against.
[Snip]
His Czars are meant to function as the bones in an executive infrastructure accountable to no one, but a lack of accountability isn't just another word for tyranny, but for incompetence.

(Excerpt) Read more at canadafreepress.com ...
---
TOPICS:
KEYWORDS: agenda; bho44; bhoczars; bhoeconomy; bhofascism; bhohealthcare; bhotyranny; democrats; economy; leadership; obama; obamacare; obamatruthfile; presidency; socialism; socialist; socializedmedicine; totus
---
---
---
---
---
---
---
---
---
---
---
---
---
---
---
---
---
---
---
---
---
---
---
---
---
---
---
---
---
---
---
---
---
---
---
---
---