---
To: A virtuous woman
I didn't want to belief this report when I saw it. I've defended Miss Meghan against the main board that seems to despise her. Now this comes to light and all those stories put out that she was becoming interested in the Anglican Church and prospered from the counsel of the pastor who married the couple are debunked.
Their problem, Harry and Meghan, is that they are positively still pagans, after all. :( Big disappointment. Had hoped for a new and different life for them both, with a spiritual component perhaps found at last. (Sigh)
What is gender fluid really? Scary.
847
posted on
03/02/2019 4:01:21 PM PST
by
RitaOK
(Viva Christo Rey! Public Ed & Academia are the FARM TEAM for more Marxists coming, infinitum.)
---
To: RitaOK
"What is gender fluid really? Scary."
All just part of the Derp State 16 year plan...

849
posted on
03/02/2019 4:04:12 PM PST
by
EasySt
( Praise the Lord and pass the meme-unition! WWG1WGA!)
---
To: RitaOK
What is gender fluid really? Scary.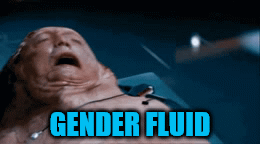 ---
To: RitaOK
At best it means not discouraging him from playing with "girls" things. At worst I suppose it means dressing him equally as a boy and as a girl so he can decide which gender suits him best.
Just occurred to me with the whole tranny thing... they use the term 'gender'. It does not mean what they think it means. Humans have sex; words have gender. So maybe the solution to the whole 'gendermandering' debacle is to let them be whatever 'gender' they want, their sex is imprinted on their dna. And make all government records record sex not gender.
1,398
posted on
03/03/2019 10:03:47 AM PST
by
ichabod1
(He's a vindictive SOB but he's *our* vindictive SOB.)
---
FreeRepublic.com is powered by software copyright 2000-2008 John Robinson