---
To: truthluva
MY INTERPRETATION OF WONDERFUL Q's LAST NIGHT,
especially
:
Q-2928 & Q-2933
~~~~~~~~~~~~~~~~~~~~~~~~~~~~~~~
WE HAVE it ALL ... but, there is SO MUCH that it needs a coherent narrative (gag me for using this Marxist expression!).
Instead, let's call it a unified CASE.
The reason is that scatter shooting never brought down a Clinton! Their defense has always been SO MUCH SLIME that none of it sticks.
That's why we need ONE COHERENT, UNIFIED CASE, which I call:
A Treasonous Conspiracy to Unlawfully and Unconstitutionally Seize Control of the Government of the United States of America
So HERE is what Q is putting together for us now:
1. FISA = START. -- This DOES NOT MEAN start of their crines! It means the START of OUR presentation of the CASE.
2. HUSSEIN SPY CAMPAIGN TO RIG AN ELECTION -- Naming the Kingpin. All others are underlings.
3. IMPLICATES HRC -- She is just a participant, not the head of the conspiracy. Just an unemployed politician at this stage. Her crimes are [LL-tarmac], U1 etc.
4. UK MI5/6/SIS, US INTEL, WH, FVEY -- OBAMA engaging with Foreign Powers against the USA
5. R PARTY ...CORRUPTION IN EFFORT TO RETAIN POWER AND RIG ELECTION -- NoName; probably others; (Ryan?)(What was Ryan offered or threatened with? Another run?)
6. SPYING ON THE PRESIDENT OF THE UNITED STATES -- Actual acts of treason when related to attempted coup d'etat.
Foundation built
Then: Huber
7. CRUZ -- Cruz surveillance revealed (rendering all excuses ridiculous) DEMOLISHES THEIR RUSSIA EXCUSE
8. Huber drops massive indictments of Brennan, Clapper, Comey, McCabe to start with ...
9. Admiral Rogers, Bill Priestap and, yes, [RR] are witnesses for the prosecution.
VIDEO EVIDENCE COMES OUT:
10. MAYBE, at some point, show the recorded videos of Obama being briefed by the indicted spooks and directing all of this treason.
10. To nail HRC, reveal recording on tarmac.
SUMMARY: Our side has to make sure ALL of this is TIED TOGETHER into one giant criminal conspiracy to overthrow the legitimate Government of USA.

---
To: ransomnote
New Q 2939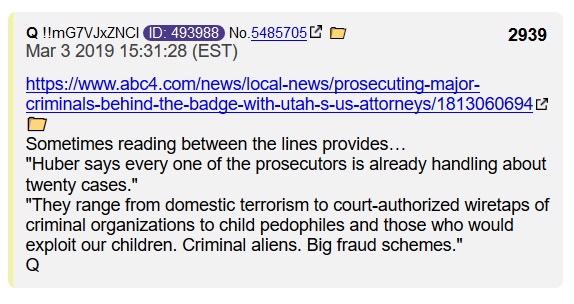 Link
https://www.abc4.com/news/local-news/prosecuting-major-criminals-behind-the-badge-with-utah-s-us-attorneys/1813060694

---
To: Disestablishmentarian
Beautiful, Dis.
This might be the NARRATIVE (haha) you are looking for. The hook that gets EVERYBODY'S attention and it's buried in last nights drops.
Two of them, really.
The SCIF meeting in the White House attended by Obama, Hillary. Lynch, Brennan, and Clapper initiating the operation.
The meeting at the Corinthian that enlisted a foreign government to assist in the operation.
Both of those things are pretty juicy, right? They'd play pretty damn fine in Peoria and any movie theater. Even the slowbies could understand that one.
And it sounds to me very much like Q and Q+ have all the proof they need.
Would that do it for you?
I can see even derp CNN reporters being all like... Uh...Uhmmmm….cut to commercial.
Hahahaha.
It's coming.
And nothing can stop it.
Oh, add in a pinch of documented assassination plots by government officials (FBI, I think) for flavor.
Best movie EVER???

---
To: Disestablishmentarian
I like it. It certainly makes a lot of sense the way you have laid it out.
Q has always said disinformation is necessary and that is why I am hesitate to lock in on a single path to justice. Hard to tell what is fact and what is disinformation.
---
FreeRepublic.com is powered by software copyright 2000-2008 John Robinson