---
To: ransomnote
New Q 2618, 2619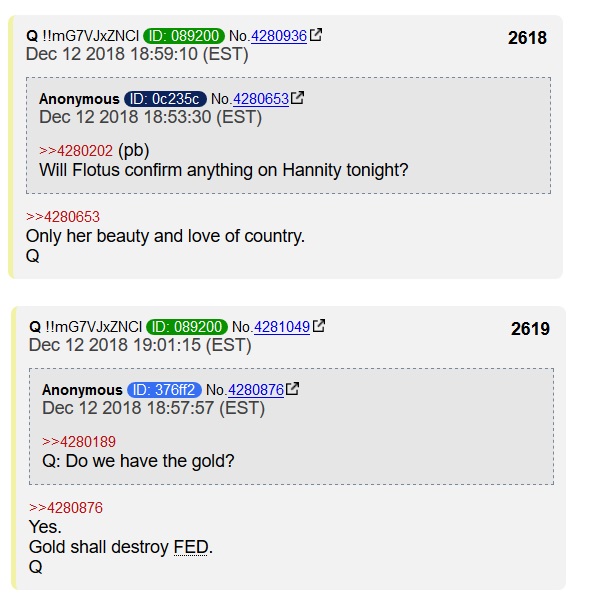 ---
To: ransomnote
New Q 2620, 2621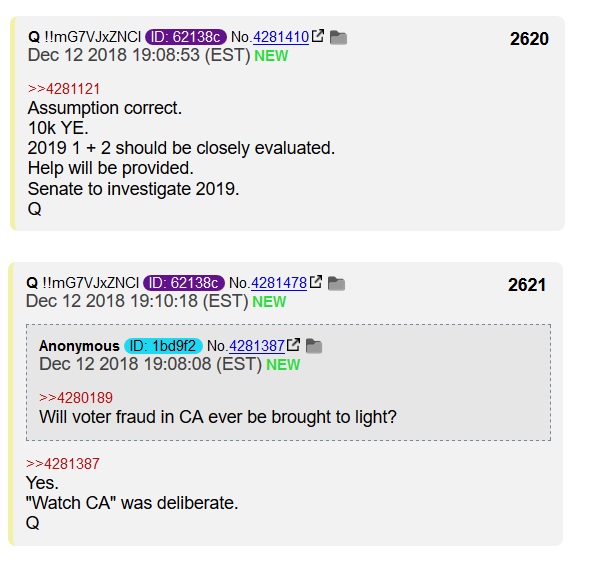 ---
To: TruthWillWin
2620
Dec 12 2018 19:08:53 (EST)
>>4281121
Assumption correct.
10k YE.
2019 1 + 2 should be closely evaluated.
Help will be provided.
Senate to investigate 2019.
Q
2621
Anonymous ID: 1bd9f2 No.4281387
Dec 12 2018 19:08:08 (EST)
>>4280189
Will voter fraud in CA ever be brought to light?
>>4281387
Yes.
"Watch CA" was deliberate.
Q
1,158
posted on
12/12/2018 4:16:00 PM PST
by
generally
( Don't be stupid. We have politicians for that.)
---
To: TruthWillWin
Gees.
Ending the Fed. What a thought.
1,159
posted on
12/12/2018 4:17:44 PM PST
by
combat_boots
(God bless Israel and all who protect and defend her! Merry Christmas! In God We Trust!)
---
To: TruthWillWin
Most enigmatic & intriguing one:
Dec 12 2018

    Anonymous ID: 376ff2 No.4280876 📁
    Dec 12 2018 18:57:57 (EST)
    >>4280189
    Q: Do we have the gold?

>>4280876
Yes.
Gold shall destroy FED.
Q

INTERPRETATION
1) First thought: Buy gold. They're not making any more of it.
2) Second thought: I have been wondering whether the globalist financial system would be a casualty of the war. The last President to take them on, and WIN, was Andrew Jackson who paid off the entire U.S. national debt and shut down the predecessor of the FED. POTUS is a big admirer of Andrew Jackson.
3) Third thought: THIS IS YUUUGE. Plus, the system is intrinsic to American power; HOWEVER, the underlying basis of this DOLLAR POWER is US control of Mideast oil. THIS IS GETTING DRAMATICALLY LESS IMPORTANT, due to shale/Fracking, and due to the impending shift to electric cars over the next decade. SO SOMETHING'S GOT TO GIVE.
4) Fourth thought: I don't see how gold is going to replace US Dollars in the international system; there's just not enough of it! Are we looking at $1 million per oz or more?
5) Fifth thought: Buy gold (and silver, and platinum)!

---
FreeRepublic.com is powered by software copyright 2000-2008 John Robinson