---
To: haffast
Not to fear-monger or paint Muslims In Name Only with true to Muhammed Islam, I offer up Southern Poverty Law Center DISapproved Bill Warner of CSPI:
Don't worry, Haffast. I'll take care of the fear-mongering AND the Islamaphobia. If by phobia we mean hate.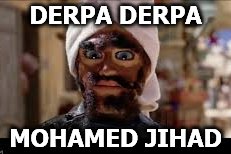 #TeamAmerica
#EffYeah
Bagster


---
To: bagster; All; Q
If someone has any "pull" with the Anons at 8 chan, please have them ask Q if anything will be done about the Dem's ever increasing blatant illegal activities in our elections. I mean, come on, Orange County CA all turned blue from red with this "vote harvesting" system that they used —the same system that the Dems are screaming was used in that still uncalled election in NC? The dems have the lamestream media screaming about that NC election, but are eerily silent (of course) about all the other blatant election cheating going on in our country.
When is the FEC or Justice department going to step in and start knocking heads? I mean, they got so bold and so bad in Broward county FL that something had to be done. But then, it was a slap on the wrist, not a slap on handcuffs on the wrist.
I'm tired of us being the "stupid party". It's time to knock heads —we have leader that will knock heads and it's time we use what power we have to stop these election illegalities or we won't win another election in our lifetime.
Thanks for our President Trump and Q. If not for them I would have no hope but that we will a banana republic.

1,398
posted on
12/10/2018 7:04:10 AM PST
by
duckbutt
(Those who pay no taxes have no check on their appetite for services.)
---
FreeRepublic.com is powered by software copyright 2000-2008 John Robinson