---
To: JockoManning
"""In common 30+++ BELOW freezing one does NOT hang it out to p. It would freeze before you could tuck it back in. Ditto in Alaska."""
Well I'll have you know I was in Burlington VT one morning at minus 26 below zero with a 20 mph wind blowing off Lake Champlain, and it was no issue hanging it out....I couldn't find it. :)
Those people are nuts.
1,316
posted on
12/09/2018 10:56:44 PM PST
by
haffast
(Alternate universes held together by porridge.)
---
To: haffast
Maybe I was thinking of 60+ below. It's been a long time since I read about such adventures. As I understand it—one has to sort of pre-heat the air one breathes, too. And NEVER expose ANY flesh at such temperatures.
1,317
posted on
12/09/2018 11:04:50 PM PST
by
JockoManning
(http://www.zazzle.com/brain_truth for hats T's e.g. STAY CALM & DO THE NEXT LOVING THING)
---
To: haffast
I couldn't find it. :)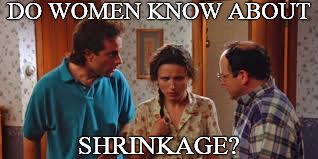 ---
To: haffast; ransomnote; TEXOKIE; generally; bagster; defconw; JockoManning; All
https://www.judicialwatch.org/blog/2018/10/guatemalan-authorities-rescue-group-of-minors-from-human-smugglers-in-caravan/
Link above to info from Judicial Watch in Oct. regarding the children rescued from some human smugglers.
Listening to Liz Crokin today. She mentioned an additional theory regarding the "refugees". She points out that these Muslims from Middle East arriving, have been brought up to believe that rape of women and children is ok-age 9 for marriage.
Then, they could use the legal system - part of their religion and so use the court system to basically make pedophilia legal. Glad we haven't been totally over run like Europe.
---
To: haffast
Ohh nooo... i'm sliding the thread into peeing in the cold but i'll stop after this I promise...
I think you produce anti-diuretic hormone in the very cold so you tend to not pee much if at all. When you pee you lose heat. You don't want to do that when you're exposed.
Likewise best way to cool off in summer is to drink enough cold water to make you pee. Literally replacing hot with cold. #a/cispartoftheracket
1,481
posted on
12/10/2018 9:03:40 AM PST
by
ichabod1
(He's a vindictive SOB but he's *our* vindictive SOB.)
---
FreeRepublic.com is powered by software copyright 2000-2008 John Robinson